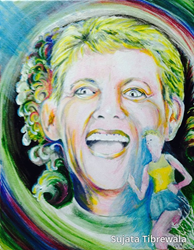 Sujata Tibrewala aims to inspire everyone to find ways to help others
(PRWEB) August 17, 2016
Multitalented artist Sujata Tibrewala, believes that a fit body resonates positive energy. And this is the thought that inspired her ongoing exhibition featuring athlete Pam Reed. For the artist, this exhibition is especially important because it marks a successful completion of a personal goal. Late last month, Tibrewala, pledged to complete a half marathon in San Francisco that would help raise $900 for underprivileged children in India. The artist tied up with Asha For Education, the San Francisco chapter of a volunteer based NGO that helps educating kids from impoverished backgrounds in India. The artist was able to reach her target through generous donations and has now pledged to create further awareness.
In a new exhibit, she not only celebrates her success but further inspires women to take better charge of their health and fitness.
Tibrewala discovered her passion for running, to cope up with personal trials. In the year 2008, the artist was diagnosed with Fibromyalgia, a disorder that causes acute musculoskeletal pain and fatigue. Tibrewala had to resign from her job as her condition worsened. Over the years, with grit she managed to swing back and lead a normal life but in 2013 she was again confronted with the responsibility of working and looking after her teenage daughter single handedly, as her husband's job required him to travel extensively. If the challenges of handling a teenage kid were not enough, she had to further take charge of the household, pursue her job and drive her daughter around. Her daughter's therapist advised Tibrewala, to manage all this with a calm disposition and never to get angry when her daughter was loosing her mind. The artist felt she needed a marathoner's energy to cope up with all this and that's when inspired by her friends, she signed up for a half marathon. She realized that running was not only de-stressing but also gave her stamina to cope better with things. Sujata's recent run, completes her five half runs and she's gunning for the full marathon this year. The artist is being trained for a full marathon by Asha team in Bay area which is fully run by volunteers. Every penny donated to Asha goes towards a greater good.
Sujata Tibrewala, wants to further accentuate the awareness her half marathon created and hence she came up with a new exhibition that inspires the idea of setting fitness goals for oneself. One of the paintings in the exhibition, titled 'Pam Reed, Magic of 300 Miles', celebrates the ultra running legend and the first person to complete a 300-mile run without sleep in 2005.
The athlete also set a new record in 2002 and 2003, when she became the only woman to have won the Badwater 135 mile ultra marathon. Reed also authored a book titled: The Extra Mile: One Woman's Journey to Ultra Running Greatness. This mother of five who now is the race director of Tucson Marathon, inspires the artist everyday. Tibrewala wants that all of us should find role models that define our passions and find ways to blend humanity with our effort to live those passions.
As the artist trains for her bigger and better journey of a full marathon she wants all of us to live our dreams, never lose hope and find ways within our means to help the unfortunate. That's the message behind her exhibit and her marathon journey.
About Asha For Education:
Founded in Berkeley in 1991, Asha For Education is a completely volunteer run global non-profit. Founded with a vision to provide basic education to underprivileged children in India, the organization has grown to having chapters all over the US and in other countries as well. The San Francisco chapter, Asha SF, is involved in finding educational projects in India and aims at raising funds and organizing community outreach programs. Contributions to Asha are tax deductible.
About the artist:
Sujata Tibrewala, a self-taught artist come engineer remarkably embodies the indomitable spirit of human existence through her works. Her works, center around the theme of eco-feminism. She has exhibited her artworks in some of the most reputed venues around the globe such as University of Illinois, Chicago, Raw San Jose, Parallax Art Fair London, the Regional Commission of Arts St Louis, Life Force Arts Chicago, Mindworks Gallery Chesterfield, St. Louis Artists' Guild, Chesterfield Arts, Art World Association, Women's Caucus for the Arts, MySLART and Lalit Kala Academy, Delhi. She moved to the USA in 2010 from India and practices her art form at the Bay Area, CA, where she resides presently.