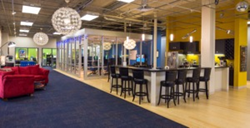 "Great things happen when you pair an innovative team with amazing clients who want to be at the forefront of marketing." - Marty Weintraub, Aimclear Founder.
DULUTH, Minn. (PRWEB) August 17, 2016
For the fifth year in a row, Duluth-based Aimclear is cited on Inc. Magazine's prestigious ranking of the fastest-growing private companies in America. The business publication unveiled its annual Inc. 5000 ranking earlier today with Aimclear listed in the 2,829 spot overall and among the top 50 Minnesota companies on the list.
Aimclear is an international marketing agency comprised of 34 employees supporting a variety of notable clients. With offices in Duluth and St. Paul, the company specializes in audience data targeting, digital distribution, customer acquisition, omni channel delivery, content and PR services. Aimclear marketers have developed many innovations in search and social audience segmentation to support sales engagements for clients.
The marketing firm has increased revenue by 123 percent over the last three years, with revenue topping $9.2 million in 2015. The company serves a wide range of clients, including many leading brand names, Silicon Valley startups, local businesses and several other organization types.
"Making the Inc. 5000 five years in a row is a testament to the talent, innovation and dedication of the Aimclear team," said Laura Weintraub, Aimclear CEO. "We have crafted unique ways for companies to unify search, social, PR and psychographics to deliver measurable outcomes for clients year after year. The Inc. 5000 ranking validates the results Aimclear delivers for the companies we serve."
"I'm extremely proud of the Aimclear team," said Marty Weintraub, Aimclear founder. "We've been in business for nearly a decade and have enjoyed Inc. 500 and 5000 status for half of that time. Great things happen by pairing an innovative team with amazing clients who want to be at the forefront of marketing. Client growth is core to everything Aimclear does."
Aimclear has brought home numerous awards since its inception in 2007. The company has twice made Minnesota Business Magazine's "Best Companies to Work For" ranking. The Aimclear blog has been recognized as one of PRWeb's top 25 PR blogs, Cision's top 10 social media blogs, Technorati's top 100 business blogs and PostRank's top 50 SEO Blogs. Founder Marty Weintraub was honored as the 2013 US Search Awards "search personality of the year" and is a past recipient of the Joel Labovitz Emerging Entrepreneur award.
About Aimclear®
Aimlear® is a Minnesota-based digital marketing agency widely regarded for data-driven tactics, integrated search, social, public relations, design and development services. Since 2007, the agency has pioneered cutting-edge creative strategies and psychographic audience targeting.  Aimclear has offices in Duluth and St. Paul, Minnesota. For more information, visit aimclear.com.