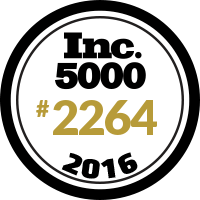 Woodland Hills, CA (PRWEB) August 18, 2016
Faye Business Systems Group announced today that it has ranked number 2264 on the Inc. 5000 List of the Fastest Growing Companies in America for 2016. The Inc. list is an exclusive ranking of the nation's fastest-growing private companies. This is the third year in a row FayeBSG has made the Inc. 5000 list and their ranking jumped over 600 positions closer to the top of the list.
See the FayeBSG Inc. 5000 profile here.
"FayeBSG is honored to be named to the Inc. 5000 list for the third consecutive year," said FayeBSG CEO, David Faye. "Our success is directly a result of the hard work put in by the FayeBSG team to take care of our clients and offer the most innovative and complete solutions in the CRM and ERP space. Congratulations to all the companies on the list, and I wish everyone much continued success."
For 35 years, Inc. has welcomed the fastest-growing private companies in America. On average, the companies on the list have grown almost five-fold over the past three years.
Inc. Magazine President and Editor in Chief, Eric Schurenberg wrote: "Only a tiny fraction of the nation's companies have demonstrated such remarkably consistent high growth. As an Inc. 5000 honoree, Faye Business Systems Group now shares a pedigree with Intuit, Zappos, Under Armour, Microsoft, GoPro, Timberland, Oracle, and other notable alumni."
A lift of the full 5,000 rankings can be found at http://www.inc.com/inc5000.
About Faye Business Systems Group
FayeBSG is the #1 SugarCRM Partner in the world among 650 partners. As leading partners of QuickBase, NetSuite, Sage and Act-On, FayeBSG has been recognized by CIO Review as one of 20 most promising CRM and ERP solutions providers for 2015. FayeBSG specializes in a variety of custom software solutions to meet client needs. Services include software development, project management, packaged software implementations, custom software implementations, integration, consulting, training, and support.
Known for their breadth of SugarCRM Integration Add-On Products and custom software solutions, FayeBSG has built Sugar integrations with ERP software, credit card processing, project management, phone systems, and more. Specializing in extensive multi-layered CRM, ERP and marketing integrations, FayeBSG concentrates on a wide array of high value CRM, ERP and marketing automation development and consulting services.
For more information, call (818) 280-4820, email info(at)fayebsg(dot)com, or visit http://www.fayebsg.com. Connect with Faye Business Systems Group on LinkedIn, Facebook, Twitter or YouTube.