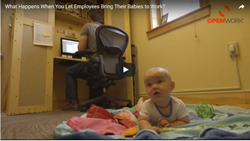 Badger's Babies at Work program proves that workplaces function best when employees and employers collaborate to find new ways of working
Gilsum, New Hampshire (PRWEB) August 19, 2016
What happens when you let employees bring their babies to work? W.S. Badger, the maker of certified organic and natural body care products, answers this question in a new video from OpenWork, a nonprofit that inspires companies to continuously improve how, when, and where work is done for the mutual benefit of employees and employers.
Badger is one of 200 companies and organizations in the U.S. with a "babies at work" policy allowing moms and dads to bring their infants to the office and care for them until they reach six months of age. In addition to encouraging the parent/child bond at a critical time, the program also provides business benefits to Badger such as increased employee engagement, reduced turnover, and fewer parents leaving the workplace.
"Offering benefits that support the lifecycle of our employees has always been a priority," says Rebecca Hamilton, VP of research & development and co-owner at Badger. "Back in 2007 when an employee asked if she could bring her baby to work, we did the research and ended up working with the Parenting in the Workplace Institute to design a program that suited our needs. We've since had 15 parents bring their babies to work here at Badger."
Badger's forward-thinking company culture is not just a happy accident. From its founding in 1995, the mission and principles of this family run and family friendly business were designed to support a culture that was respectful and supportive of all employees. In addition to Babies at Work, many of the company's innovative employee-centered practices—extended paid parental leave, a company-run childcare center, and free organic lunches served daily—are the result of employee feedback.
"Badger's Babies at Work program proves that workplaces function best when employees and employers collaborate to find new ways of working," said Kathleen Christensen, Chairman of the Board of Directors of OpenWork. "By building their business based on trust, accountability and flexibility, Badger has created a workplace that works for everyone."
Parents participating in the program are not expected to work a 40-hour workweek. Instead, it is expected that at least 2 hours a day, if not more, be set aside for taking care of their babies. Parents must also identify co-workers who act as backup caregivers.
"My wife and I were both starting to establish our careers, so taking time away was a challenge. Having the option to stay on full-time while having baby Willa at work was perfect," says first-time dad Ryon Clarke, the product development project lead at Badger and the first father to participate in the company's program.
Christina Klueh, a customer support rep at Badger and a recent Babies at Work alum says, "Being Ryon's back up for baby Willa was a great opportunity to give back."
According to the nonprofit OpenWork, businesses that embrace the core principles of OpenWork – trust, accountability and flexibility – see an increase in productivity, higher employee engagement and job satisfaction, and a reduction in worker stress and burnout.
OpenWork is defined as happening when employees and employers collaborate to reinvent how work is done, for the benefit of all. This means breaking out of old patterns, establishing new cultures of trust and accountability and creating new ways of working to reap huge benefits. By sharing stories about workplace culture, employee engagement, job flexibility, work-life balance and more, OpenWork.org aims to accelerate the pace of change in the way people can and should work in the 21st century.
About W.S. Badger
Badger is the maker of certified organic and 100% natural body care products. Family run and family friendly since 1995, Badger was born when Badger Bill, a carpenter at the time, created a recipe of natural ingredients strong enough to soothe his rough, dry cracked hands. Now a team of over 90 employees, Badger produces more than one hundred products ranging from lip balms, hair oils and body moisturizers to mineral sunscreens and natural bug repellents. Recently, Badger was one of two New Hampshire businesses and 351 workplaces nationwide honored with a 2016 When Work Works Award for its use of effective workplace strategies to increase business and employee success.
Inherent in Badger's DNA is its status as a B Corporation, a certification earned through B Lab, a third party nonprofit that requires companies to meet rigorous standards of transparency as well as environmental and social performance. Badger has been a certified B Corp since 2011 and in 2015 became one of New Hampshire's first businesses to register legally as a Benefit Corporation, a for-profit status that incorporates the pursuit of positive environmental and social impact in addition to profit.