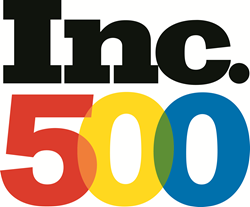 "At Evoke, we pride ourselves in over-managing the details. I'm proud of the amazing work we've done for our incredible clients." - Kelly Ehlers, Founder and President
Madison, Wisconsin (PRWEB) August 19, 2016
Ideas That Evoke®, a digital marketing and idea agency serving clients in the beauty, lifestyle and luxury industries, has landed a spot on Inc. Magazine's prestigious Inc. 500 list, comprised of the top 10 percent of the Inc. 5000 list of the fastest-growing private companies in the United States. During the last three years, the Madison-based agency touted growth of more than 1,000 percent, placing it No. 325 in the overall ranking.
Evoke, which was launched by its founder and president Kelly Ehlers in 2009, was the No. 23 firm for rapid growth among all Advertising and Marketing Companies and No. 4 among the fastest-growing companies in the state of Wisconsin.
Evoke's rapid growth has been 100 percent referral-based, a testament to the agency's drive and dedication to helping its clients make tangible improvements to their business success.
"At Evoke, we pride ourselves in over-managing the details ," Ehlers said. "I'm incredibly proud of the work we've done for our clients. We could not have done it without their trust, collaboration and partnership, especially over the last three years."
With many startups failing within five years, let alone grow, the Inc. 500 represents a unique look at the most successful companies within the American economy's most dynamic segment—its independent small businesses.
The Inc. 5000's aggregate revenue is $200 billion, and the companies on the list collectively generated 640,000 jobs over the past three years, or about 8 percent of all jobs created in the entire economy during that period.
"The Inc. 5000 list stands out where it really counts," says Inc. President and Editor-In-Chief Eric Schurenberg. "It honors real achievement by a founder or a team of them. No one makes the Inc. 5000 without building something great – usually from scratch. That's one of the hardest things to do in business, as every company founder knows. But without it, free enterprise fails."
The 2016 Inc. 5000 is ranked according to percentage revenue growth when comparing 2012 to 2015.
The annual Inc. 5000 event honoring all the companies on the list will be held from October 18 through 20, in San Antonio, TX. Speakers include some of the greatest entrepreneurs of this and past generations, such as best-selling author and strategist Tony Robbins, SoulCycle co-founders Elizabeth Cutler and Julie Rice, Cornerstone OnDemand founder, president and CEO Adam Miller, Marvell Technology Group director and co-founder Weili Dai, and New Belgium Brewing co-founder and executive chair Kim Jordan.
About Ideas That Evoke
Ideas That Evoke creates and narrates brand stories in the social and digital space within the beauty, lifestyle and luxury industries. The agency's mission is to solve business challenges through social innovation. To learn more about Ideas That Evoke®, visit http://www.IdeasThatEvoke.com.
You can also follow Evoke on Facebook, Instagram and Linkedin.
About Inc. Media
Founded in 1979 and acquired in 2005 by Mansueto Ventures, Inc. is the only major brand dedicated exclusively to owners and managers of growing private companies, with the aim to deliver real solutions for today's innovative company builders. Winner of the National Magazine Award for General Excellence in both 2014 and 2012. Total monthly audience reach for the brand has grown significantly from 2,000,000 in 2010 to over 15,000,000 today.  For more information, visit http://www.inc.com.