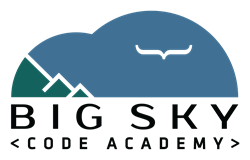 #SitWithMeMontana is creating a statewide conversation about how to encourage young girls in Montana to pursue their interests in technology.
Helena, MT (PRWEB) August 22, 2016
Lt. Gov. Cooney will join the Helena launch of the Big Sky Code Academy's Sit With Me Montana campaign in support of more gender equality and representation in technology at ExplorationWorks! this Monday August 22, 2016 at 3:30pm. The Sit With Me Montana campaign joins the national Sit With Me campaign to "inspire women in computing and IT… and to recognize the value of women's technical contributions."
Lt. Gov Cooney will speak about the importance to the state economy of training and mentoring Montana's current and next generation of software programmers through Big Sky Code Academy's adult coding boot camps and free after-school technology program, Montana Code Girls, for young girls ages 9-19.
Representatives from the Big Sky Code Academy will be in attendance to answer questions and also encourage all attendees to join the movement to get more women in technology.
"It will take leadership at all levels of our state to shape the next generation economy of Montana" said Devin B. Holmes, co-founder of Big Sky Code Academy. "We are excited to announce the launch of our Helena campus and to bring the Sit With Me Montana campaign to Helena."
The Sit With Me Montana campaign is just one of many of the Academy's initiatives to ensure larger and more diverse participation in technology as Montana companies aim to grow the local talent pool and workforce.
###
About Big Sky Code Academy™
The Big Sky Code Academy is an accelerated coding boot camp offering online and on-site immersive training for the next generation of programmers. Designed to enable and empower all Montanans, the Academy recently launched two initiatives, Montana Code Girls™, and Code4Philanthropy™. Montana Code Girls offers events, free after-school programs and summer camps to Montana's girls and young women interested in technology, including sponsoring Montana's Technovation teams, while Code4Philanthropy Fellows attend the Academy at no cost and upon graduation are placed with nonprofits across beautiful Montana for a 12-month technology fellowship. To learn more, visit: bigskycodeacademy.org