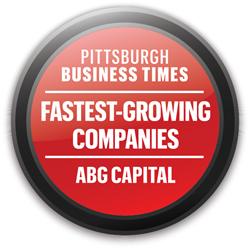 Our company has been on a sustainable and scalable growth pace for years because we continue to focus on our core competencies and aligning them to the demands inside the markets we compete. - Jeff Tapolci, CEO
Pittsburgh, PA (PRWEB) August 22, 2016
ABG Capital, a business management firm and technological and software innovator, owned by brothers Jeff and Jason Tapolci, announced being named on the 2016 Fastest Growing Companies by the Pittsburgh Business Times. ABG Capital ranked 60th on the list.
"Our company has been on a sustainable and scalable growth pace for years because we continue to focus on our core competencies and aligning them to the demands inside the markets we compete. We are very disciplined in our approach and honored to be on this list," explained Jeff Tapolci, CEO.
One hundred companies were named on list of Fastest Growing Companies, honored for their revenue growth, at the Westin Convention Center hotel in downtown Pittsburgh last Thursday evening. Two of ABG Capital's portfolio companies were also named as award winners, VoIP Innovations at number 65, and InspiraFS at number 3.
In 2016, ABG Capital also ranked on the Inc. 5000's Fastest Growing Companies in America.
For more information on the 2016 Fastest Growing Companies and the full list of companies chosen, please visit the Pittsburgh Business Times.
About ABG Capital
ABG Capital is a privately held business management company located in Pittsburgh, PA. ABG Capital supports its portfolio company's growth and success by offering aggregated back office services such as accounting, administrative, legal, IT, software development, HR, and marketing communications. Offering these services allows for the portfolio companies to have a competitive advantage as well as an equation for quick paced success. For more information, please visit the ABG Capital Blog.
About the Pittsburgh Business Times
The Pittsburgh Business Times is Western PA's premiere source of local business news coverage keeping business professionals up-to-date with the changing business landscape in the region. It is an invaluable tool for any business owner looking to grow a business. Every week, the Business Times delivers exclusive business leads, Top 25 Lists, executive profiles, new businesses filings and unlimited online access to exclusive content for subscribers only. For further information, please visit the Pittsburgh Business Times.