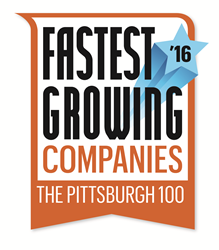 Our tremendous growth was caused by two aspects of Strategic Planning; strategic thinking and execution planning. - Jason Tapolci, President
Pittsburgh, PA (PRWEB) August 22, 2016
VoIP Innovations, a premier wholesale VoIP carrier, announced being named on the 2016 Fastest Growing Companies list by the Pittsburgh Business Times. VoIP Innovations ranked 65th on the list.
Jason Tapolci, President of VoIP Innovations said, "Our tremendous growth was caused by two aspects of Strategic Planning; strategic thinking and execution planning. On the strategic thinking side, we built an industry dominating strategy that identified a market pain point and built a differentiating solution to address this market pain. On the execution planning side, it was our people who executed our strategic plan by using the Rockefeller Habits Checklist, priorities, rhythm, and data and a lean methodology."
One hundred companies were named on list of Fastest Growing Companies, honored for their revenue growth, at the Westin Convention Center hotel in downtown Pittsburgh last Thursday evening. VoIP Innovations' parent company ABG Capital was also named on the list, at number 60, and their sister company, InspiraFS, placed at number 3.
In 2016, VoIP Innovations also ranked on the Inc. 5000's Fastest Growing Companies in America and was recently awarded the 2016 Communications Solutions Products of the Year Award for its Titanium III BackOffice.
For more information on the 2016 Fastest Growing Companies and the full list of companies chosen, please visit the Pittsburgh Business Times.
About VoIP Innovations
VoIP Innovations is an Inc. 5000 company that specializes in providing the largest DID and termination VoIP footprints in North America. Their network includes over 500,000 DIDs in stock in over 8,500 rate centers in the US and Canada. Recently, VoIP Innovations expanded their footprint to include DIDs in over 60 countries and now offers A-Z termination. VoIP Innovations is owned by ABG Capital and is based in Pittsburgh, PA. To learn more, please visit the VoIP Innovations Blog.
About the Pittsburgh Business Times
The Pittsburgh Business Times is Western PA's premiere source of local business news coverage keeping business professionals up-to-date with the changing business landscape in the region. It is an invaluable tool for any business owner looking to grow a business. Every week, the Business Times delivers exclusive business leads, Top 25 Lists, executive profiles, new businesses filings and unlimited online access to exclusive content for subscribers only. For further information, please visit the Pittsburgh Business Times.