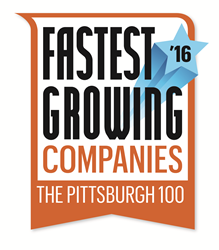 Inspira's accelerated growth has primarily been the result of an excellent and dedicated team that delivers disruptive and efficient solutions to a mature industry. - Ron Eggert, CEO
Pittsburgh, PA (PRWEB) August 22, 2016
InspiraFS, an IRA recordkeeper, announced the honor of being named on the 2016 Fastest Growing Companies list by the Pittsburgh Business Times. InspiraFS ranked third on the list and placed first in the Finance category.
Ron Eggert, Chief Executive Officer said, "Inspira's accelerated growth has primarily been the result of an excellent and dedicated team that delivers disruptive and efficient solutions to a mature industry." Mr. Eggert continued, "At Inspira we adhere to three strategies for growth. These primary strategies center around identifying ways to help our prospective clients, generate revenue, reduce expense or create additional client stickiness. When you deliver these to your clients nothing can stop you."
One hundred companies were named on list of Fastest Growing Companies, honored for their revenue growth, at the Westin Convention Center hotel in downtown Pittsburgh last Thursday evening. InspiraFS' parent company, ABG Capital, ranked number 60, and its sister company, VoIP Innovations, was honored at number 65.
In 2016, InspiraFS also ranked on Inc. 5000's Fastest Growing Companies in America.
For more information on the 2016 Fastest Growing Companies and the full list of companies chosen, please visit the Pittsburgh Business Times.
About Inspira
Based in Pittsburgh, PA, and founded in 2002, Inspira is an IRA record keeper dedicated to providing retirement providers and professionals with easy-to-implement, low-cost IRA solutions. Inspira offers Payroll IRA Plans, Contributory IRA programs and Automatic Rollover solutions designed to give retirement providers and other businesses a variety of ways to take advantage of the rapidly-expanding Individual Retirement Account marketplace.
About the Pittsburgh Business Times
The Pittsburgh Business Times is Western PA's premiere source of local business news coverage keeping business professionals up-to-date with the changing business landscape in the region. It is an invaluable tool for any business owner looking to grow a business. Every week, the Business Times delivers exclusive business leads, Top 25 Lists, executive profiles, new businesses filings and unlimited online access to exclusive content for subscribers only. For further information, please visit the Pittsburgh Business Times.