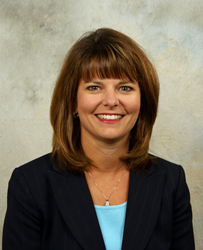 FNTS' vision is to raise the bar in the managed services industry
OMAHA, Neb. (PRWEB) August 23, 2016
First National Technology Solutions (FNTS), the recognized leader in the managed IT services industry, today announced Kim Whittaker as president, effective immediately. In this new role, Whittaker will spearhead the company's vision and strategy. Ken Kucera, current president and CEO, will remain as CEO while he recovers from a prolonged illness.
Whittaker has been with FNTS for 20 years and most recently served as vice president of sales and marketing. In addition to her new role as president, Whittaker will continue to lead the sales and marketing team. Prior to FNTS, she worked at First National Bank of Omaha and Principal Financial Group.
"FNTS' vision is to raise the bar in the managed services industry," said Whittaker. "By providing a more personalized and flexible experience, setting a new standard for secure and reliable data, and helping our clients stay on the cutting edge of technology, I am confident this vision will be realized."
FNTS has also hired Dan Caldwell as its chief operating and financial officer. Caldwell had previously worked at First National Bank of Omaha as vice president of financial planning and analysis. Caldwell will have a leading role in the strategic planning and financial oversight of FNTS, as well as the support of all customer touchpoints through the operation support center and service account managers.
"I have worked closely with Kim and Dan for 7 years throughout their time with First National's subsidiaries and can attest to their leadership and investment in the company," said Kucera. "The next phase of FNTS will only strengthen our mission, culture, and strategic direction."
About FNTS
With over 20 years in the managed IT services industry, First National Technology Solutions (FNTS) is a leading provider of flexible, customized hosted and remote managed services. Specializing in best of breed cloud technology and data center services, FNTS is dedicated to quality personal service, guaranteed uptime, and custom-built solutions that fit individual enterprises today, and align with their future strategic growth plans.
Built on stability and fueled by innovation, FNTS partners with the world's most respected technology companies including VMware, EMC, IBM and Microsoft. For more information about FNTS, visit http://www.fnts.com or follow us @FirstNatTechSol.
Headquartered in Omaha, Nebraska, FNTS is a wholly owned subsidiary of one of the Midwest's largest privately held financial holding companies, First National of Nebraska. First National of Nebraska has grown into the largest privately owned banking company in the United States. First National and its affiliates have $20 billion in assets and 5,000 employee associates. Primary banking offices are located in Nebraska, Colorado, Illinois, Iowa, Kansas, South Dakota and Texas.