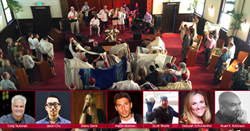 It is a powerful feeling to celebrate the Holy Days in our historic 107-year-old building, making the old new and the new Holy.
Los Angeles, California (PRWEB) August 23, 2016
Pico Union Project has launched a social media campaign to crowdfund its High Holy Days services. Located in Los Angeles' oldest synagogue building, the emerging multi-faith/cultural center returns to the ancient tradition of tithing, and asks individuals to support the project with a contribution that fits their means.
"We felt that the current membership dues model was not a good fit for our community," says Ellen Silverman, Pico Union Project (PUP) board chair. "My High Holy Days experience at PUP last year inspired me to take on a leadership position and think creatively about how to help anyone who is interested to join our community."
"The Sanctuary@Pico Union is known for its emphasis on joyful, soulful, artistic celebrations, and intellectual stimulation that reflects our diverse and multi-cultural community," says Pico Union Project founder Craig Taubman." It is a powerful feeling to celebrate the Holy Days in our historic 107-year-old building, making the old new and the new Holy."
By replacing the traditional membership system with a progressive crowdfunding approach through Jewcer.org, Pico Union Project aims to create an authentic sense of ownership. Dr. Amir Give'on, the Founder and CEO of Jewcer says, "We are thrilled to help PUP lead the way of changing how synagogues open their doors."
Opportunities are offered for every budget to contribute to the $62,000 campaign. Each contribution comes with a different number of passes to five High Holy Day services. Higher contribution amounts offer additional exciting benefits, such as sponsoring a yoga practice, designing the break-the-fast menu at the end of Yom Kippur, or having a personalized poem written and recited as a part of services.
High Holy Days services at Sanctuary@Pico Union will be led by Craig Taubman with Rabbi Deborah Schuldenfrei, Dr. Zach Lasker, Rabbi Scott Westle, Jason Chu, Martin Sorrow, Stuart K. Robinson and Shany Zamir. 
All are invited to partake in this joyful, soulful, multi-cultural, oh-so-LA High Holy Days. Passes will be made available to those unable to make the minimum suggested contribution, so that everyone is able to participate.
High Holy Days passes are available at https://www.jewcer.org/project/puphighholydays5777/
For more information, please visit the Pico Union Project website at picounionproject.org.
# # #
About Pico Union Project
Originally built by Sinai Temple in 1909, the Pico Union is the oldest synagogue building in Los Angeles. The Pico Union Project is a multi-faith cultural arts center dedicated to the Jewish principle to "love your neighbor as yourself." We elevate this teaching into practice by bringing diverse cultures together through song, story, art, food and prayer. We partner with like-minded organizations and community leaders to help reinvigorate our neighborhood in downtown Los Angeles reflecting the Jewish value to be a light to all nations.
# # #