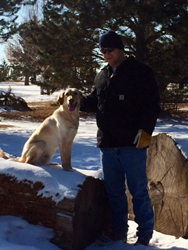 At his three month medical progress exam, which included radiographs, I was astounded to see the marked improvement in the surfaces of both hip joints.
Gillette, WY (PRWEB) September 08, 2016
Dr Warmuth is not only Cooper's veterinarian, she is also his owner. So when she noticed that Cooper was slowing down on their walks, at only 4 years old, she knew she needed to find a way to help him long term. She had started Cooper on NSAIDs but knew that long term use of these drugs can have side effects, and they were not a solution to his hip issues. Cooper has hip dysplasia and the beginnings of arthritis in both hips. Dr Warmuth decided to give VetStem Cell Therapy a try.
Dr. Warmuth began with a fatty tissue collection from Cooper and the tissue sample was sent overnight to VetStem's lab in California for processing. Once processed, the stem cells were quality checked and the injectable doses of Cooper's own stem cells were sent overnight to Dr. Warmuth at Red Hills Veterinary Hospital. "Within the first 30 days after Cooper's stem cell therapy, we noticed a mild to moderate decrease in his hind limb lameness and an increase in his daily comfort." Said Dr Warmuth, "Cooper continued to improve over the next two months, and this improvement was in the face of increased exercise, as a new puppy was introduced to our house. At his three month medical progress exam, which included radiographs, I was astounded to see the marked improvement in the surfaces of both hip joints."
Over four months after the stem cell treatment, Cooper is comfortable on a daily basis, with only mild lameness observed possibly once a month after excessive exercise, and a 50% reduction in his daily NSAIDs. Dr Warmuth says she recommends VetStem regularly to her clients so their pets may also enjoy a relief from pain and an increase in their quality of life.
Dr Warmuth graduated from the University Of Florida College Of Veterinary Medicine in 2010. She has a special interest in the sport of sled dog racing and veterinary sports medicine. Dr Warmuth enjoys treating exotic animals, orthopedic, and internal medicine. She has been certified in Regenerative Cell Therapy since September of 2015 and is able to use adipose derived stem cells to treat a wide variety of orthopedic conditions.
Stem cells are regenerative cells that can differentiate into many tissue types as well as being able to reduce pain and inflammation thus helping to restore range of motion and stimulate regeneration of tendon, ligament and joint tissues (http://www.vet-stem.com/science.php). In a study using VetStem Regenerative Cell Therapy on dogs with osteoarthritis of the hip joint it was found that regenerative cell therapy (adipose-derived stem cells) decreases patient discomfort and increases patient functional ability.
About Red Hills Veterinary Hospital
Red Hills Veterinary Hospital is a full service animal hospital seeing both emergency cases as well as less urgent medical, surgical, and dental issues. Dr. Garry Gotfredson and his staff are experienced in all types of conditions and treatments. Beyond first rate pet care, we make our clinic comfortable, kid-friendly, and a very calm environment so your pet can relax and look forward to meeting his or her own personal and friendly veterinarian. Red Hills Veterinary Hospital is one of the few practices in Gillette which offers full digital radiographs with an onsite lab to perform blood chemistry profiles so that you and your companion can receive answers right away.
About VetStem Biopharma
VetStem Biopharma is a veterinarian lead company that was formed in 2002 to bring regenerative medicine to the profession. This privately held biopharmaceutical enterprise, based near San Diego (California), currently offers veterinarians an autologous stem cell processing service (from patients' own fat tissue) among other regenerative modalities. With a unique expertise acquired over the past 14 years and 12,000 patients treated by veterinarians for joint, tendon or ligament issues, VetStem has made regenerative medicine applications a therapeutic reality beyond the realm of research. The VetStem team is focused on developing new clinically practical and affordable veterinary solutions that leverage the natural restorative abilities present in all living creatures. The company's stated mission being "to extend and enhance the lives of animals by improving the quality of recovery in acute conditions, but also by unlocking ways to slow, stop and ultimately revert the course of chronic diseases". In addition to its' own portfolio of patents, Vet-Stem holds exclusive global veterinary licenses to a portfolio of over 55 issued patents in the field of regenerative medicine.