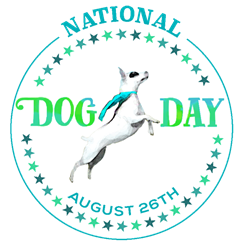 You don't have to sacrifice a lot, to be a valuable part of a bigger impact in saving lives" said Colleen Paige.
Los Angeles, CA (PRWEB) August 23, 2016
National Dog Day 2016 is proud to be celebrating twelve years on August 26th and marking the anniversary with a new dog adoption section on its website at NationalDogDay.com. This section will feature high quality, beautiful photos of dogs from its rescue partners. "We feel that the higher quality a photo is, the higher the possibility of adoption, so we'll be devoting significant resources into developing that program and working with photographers to help rescues that are in need of better quality photos" said Colleen Paige who is a Pet & Family Lifestyle Expert, Animal Welfare Advocate and founder of National Dog Day, as well as National Cat Day, National Mutt Day, National Puppy Day and many more philanthropic holidays to help promote the greater good for animals and people.
Pet Home Magazine, the official magazine of National Dog Day (as well as National Cat Day) has a special issue this month devoted to dogs only in honor of the day and featuring an adorable group of adoptable dogs from Helen Woodward Animal Center in Southern California, and those same dogs will be featured on the NDD site with others. Read it for free at PetHomeMagazine.com.
For ways to celebrate, NDD encourages dog parents and dog lovers alike to donate to their favorite shelter or rescue, by volunteering their time to walk dogs, play with them and/or clean their kennels. "Even donating just $1 to your local shelter or rescue every week or month makes an impact, especially when it's given by a million people. That's nothing compared to how much people spend on coffee and treats every single day. You don't have to sacrifice a lot to be a valuable part of a bigger impact in saving lives" said Colleen Paige.
This special day is also an opportunity to give much needed attention to the need for spaying and neutering and discouraging buying puppies from pet stores supplied by puppy mills. For newly adopted dogs on this day, it's a perfect date to set for a birthday, since age is often a guess, when it comes to shelter dogs. For those that have always wished for a pure breed dog, we encourage dog lovers to investigate the option of visiting some pure breed rescues first, before buying from a reputable breeder.
2016 brings in some amazing partners for National Dog Day, including the upcoming film "A Dog's Purpose", which is a proud sponsor of the day. Based on the beloved bestselling novel by W. Bruce Cameron, this family film shares the soulful and surprising story of one devoted dog who finds the meaning of his own existence through the lives of the humans he teaches to laugh and love. A Dog's Purpose is in theaters January 27, 2017.
Autotrader, returns as a partner for a third year, as National Dog Day's favorite go-to source for pet friendly vehicles. In celebration of National Dog Day, they'll be hosting the Autotrader "Park & Bark" Event in Atlanta's Historic Fourth Ward Park. They'll have lots of fun activities including adorable adoptables from Bosely's Place, a rescue orphanage for underage puppies. "Dogs are a big part of people's lives and it's important to find a car that will accommodate that lifestyle. But accommodating you and your pet is about more than just picking the right car, there are also many accessories available from both automaker and aftermarket companies that can help keep you and your pet comfortable and safe," said Brian Moody, executive editor at Autotrader. "This is our third year supporting National Dog Day and we are honored to have the opportunity for Autotrader to play an active role in supporting our passion for pets through sponsoring this special day and selecting our favorite cars for dog lovers," said Nichole Mrasek, Senior Manager of Public Relations.
Epic Pictures joins the celebration with an absolutely adorable animated film coming to select theaters on National Dog Day. "Space Dogs: Adventure to the Moon is proud to be a sponsor of National Dog Day. Based on the true story of Belka and Strelka, the first two dogs in space who came home safe and the confidence that they gave humans to go to space and return as well. Dogs have a special place in our heart. From rescues to service dogs, we believe in making a differences. Space Dogs to the Rescue, "said Jory Rosen, V.P. of Global Marketing for Epic Pictures Group.
New York's Hotel Pennsylvania, the host hotel for the annual Westminster Kennel Club Dog Show comes on board this year with a fabulous promotion for pet guests and a special section devoted to National Dog Day on its website. "We are especially proud to be a part of this important howl-iday," says Eugene Nicotra, General Manager. "We want to offer all two-legged and four-legged guests a great offer to experience New York(ie) City." For more information and to make a reservation, visit http://www.HotelPenn.com
Plastics Make It Possible® (PMIP) joins in partnership with this special day by debuting a short film that documents a dog named Hudson, who was previously disabled in a horrible tragedy and unable to walk freely. In this short video, PMIP showcases Hudson's journey as he is outfitted with a new plastic prosthetic foot that returns to him the freedom to run, jump and play without abandon as all dogs should. The film debuts on National Dog Day. "We are thrilled to support National Dog Day, and to help share Hudson's story," said Steve Russell, Vice President of Plastics Division, American Chemistry Council. "Thanks to innovators like Derrick and the versatility of plastic, Hudson has a new 'leash' on life – one where he can move freely and serve as a therapy dog, bringing his happiness to others."
Parx Casino in Bensalem, PA loves dogs and has a wonderful promotion to celebrate their partnership with National Dog Day. For every person who posts the #ParxPups hashtag on Twitter, Facebook and Instagram on National Dog Day (8/26), Parx Casino will donate $1 to Diamonds in the Ruff Dog Rescue. Visit http://www.ParxCasino.com to watch a video of the promotion.
Twitter is celebrating National Dog Day by promoting their adorable stickers collection for dog photos and tweeted, "Ahead of Friday's #NationalDogDay, add some bark to your photos with pawsome new featured #Stickers. Go mutts!" on Twitter, follow @nationaldogday to join in the fun!
Polaroid Swing joins the party with a fun new photo app. Celebrate National Dog Day by sharing your dog's most iconic 1-second moment with Polaroid Swing. See adorable pup shots at https://polaroidswing.com/press/dogs and show us your dog's poses by downloading the iOS app at https://itunes.apple.com/us/app/polaroid-swing/id1035142291 and using the hashtag #NationalDogDay.
Other 2016 partners include The Westin Mission Hills Golf Resort and Spa, Paw & Paper Atelier, Fort Worth Library, Florida Animal Friends Inc., Helen Woodward Animal Center and others. For more information about National Dog Day or partnership, please visit http://www.NationalDogDay.com.