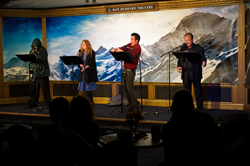 With the continued trend of public consumption of entertainment via social media, it became evident that we needed to make our performances available along these channels as well
Hollywood, CA (PRWEB) August 24, 2016
To handle the repeated requests from L. Ron Hubbard Theatre guests returning home to be able to continue watching our theatrical productions—whether in northern California, across the US or throughout the world—as well as the many others who are unable to attend our show in Hollywood but still want to watch, the L. Ron Hubbard Theatre has announced it is broadcasting its performances on Facebook Live on Facebook.com/LRonHubbardTheatre .
"With the continued trend of public consumption of entertainment via social media," stated John Goodwin, President Galaxy Press, "it became evident that we needed to make our performances available along these channels as well." Galaxy Press, publisher of the fiction works of L. Ron Hubbard, has long since been a supporter of theatrical productions of his works in Hollywood.
It has been said that the Royal Canadian Mounted Police always gets their man. "Yukon Madness" is the rugged adventure story set in the great northwest territory of Canada of one such account and is being performed—and broadcast—live Saturday, 27 August 2016 at 7:30 PM, at the L. Ron Hubbard Golden Age Theater.
Mountie Tommy McKenna has been sent to the Yukon to track down his partner's killer, Itauk the Madman, only to find that he has walked into a trap that may end with him becoming the next meal for the madman's wolf pack.
The back story proves itself as interesting as the story itself. L. Ron Hubbard came to know firsthand the unique breed of lawman, known as the Royal Canadian Mounted Police. A Mountie had just completed a murder investigation among the Eskimos and, arriving by dog sled, told his story which was recounted by Ron. "I was amongst the Eskimos once, and a tremendous tumult had occurred in a tribe a little further south. An epidemic of murder was in progress. Men were dying under the sphere of night, and for no apparent reason. Apparently a missionary came in and talked to these Eskimos, and told them that hell was a place of eternal fire, and that murder was the surest way to go there. Naturally, to the Eskimos—cold all winter—it had a certain appeal."
"Yukon Madness" with musical pre-show by Deb Montgomery
The cast:

R.F. Daley Narrator and director
Marcus Coloma Tommy McKenna
Johnny Ferretti Itauk the Madman
Saturday, 27 August
Doors open at 7:00 PM and show starts at 7:30 PM
Tickets: $15.00 adults, children under 8 free. Can be purchased at the door or online at http://www.GalaxyPress.com or http://www.theatermania.com
Parking: FREE
Address: 7051 Hollywood Blvd, on Hollywood Blvd, cross-street Sycamore, between Highland and LaBrea.
Or see it on Facebook Live at http://www.Facebook.com/LRonHubbardTheatre
NOTE: For good seats, it is recommended to purchase tickets in advance.
The L. Ron Hubbard Theatre has been open since 2008 and showcases the fiction works of L. Ron Hubbard in a modern-day environment with Hollywood actors where the entire family can experience a live show radio-theatre style and mingle with the actors afterwards.
Performances range from adventure, science fiction and fantasy, to mystery and western and begin with a 30 minute live musical pre-show. All shows are appropriate for all ages.
For more information go to http://www.GalaxyPress.com .