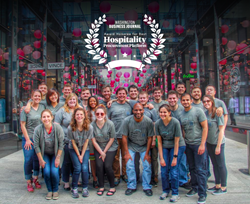 I didn't have to 'reinvent the wheel' because BlueCart is providing exactly what I was looking for in an easy to use platform to help me expand my business by reaching more people. -- Jose Rodriguez, office manager at This Chick Bakes
Washington, DC (PRWEB) August 25, 2016
Cavemen chipped their messages into rocks. Restaurants and vendors wrote their orders on notepads. Just when the industry thought it wouldn't get any easier, BlueCart app-lified the entire ordering and messaging process. On each order placed, they are sparing users 4.74 minutes in ordering time, saving them $1.96 in labor costs, and propelling their ordering speed 56.76% faster than any other method known to restaurants and vendors (and cavemen).
BlueCart is an online ordering communications platform catering to the hospitality industry, presenting both restaurant owners and vendors an avenue to receive all of their wholesale orders on just one platform. BlueCart streamlines the ordering communications process by:

trimming operation time by 69%.
dropping food waste by a whopping 52.03%.
decreasing erroneous orders by 82.26%.
It is no wonder the popular ordering app has recently been bestowed the Best Hospitality Procurement Platform by the Washington Business Journal at the Annual Innovation Awards! The Washington Business Journal aims to spotlight the finest entrepreneurial ideas as well as the people and products, within the respective region, that make those ideas part of our reality. BlueCart will accept the award personally on September 22 at the inaugural Innovation Awards Ceremony.
Co-founder and CEO, Konstantin Zvereff, proudly states, "we are thrilled to be an honoree for this very special award. We chose the DC market to launch our business because of the strong community support we received from day one. Our team has grown to thirty-six members to support our fast-paced growth."
BlueCart launched in 2014 offering mobile platforms to the restaurant and hospitality sector for the purposes of modernizing and improving the wholesale ordering process between buyers and suppliers. BlueCart received $4 million in Series A Funding and occupies offices in Washington DC, New York City, and San Francisco with over 15,000 businesses on its platform. Today, the company is a lucrative, award winning SaaS start-up.
BlueCart Inquiries:
1100 H Street Ste. 1010
Washington DC 20005
Media Inquires to: elise(at)bluecart(dot)com