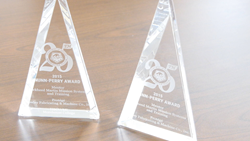 The well-deserved success of the recently completed agreement can be attributed to setting high goals, planning and re-prioritizing as required, good old-fashioned hard work and excellent communications among the mentor, protégé and the sponsoring program
Binghamton, NY (PRWEB) August 26, 2016
Lockheed Martin in Owego and Crowley Fabricating & Machining Company in Endicott were named the U.S. Navy's only Nunn-Perry award winner.
In 2012, Lockheed Martin and Crowley Fabricating & Machining Co., Inc., formed a Mentor Protégé partnership to provide the U.S. Navy with a reliable source of machined parts and products. Forty-three months later, the Lockheed Martin/Crowley team was named the U.S. Navy's only Nunn-Perry award winner in 2015. The Nunn-Perry award was named in honor of former Senator Sam Nunn and former Secretary of Defense William Perry. The partnership with Crowley has contributed to several current programs at Lockheed's Owego facility including the U.S. Navy's MH-60 helicopter program and the VH-92A Presidential helicopter program.
The Mentor, Lockheed Martin, is a global security and aerospace company that is principally engaged in the research, design, development, manufacture, integration and sustainment of advanced technology systems, products and services.
The Protégé, Crowley Fabricating & Machining Co., Inc., is a local Service-Disabled Veteran Owned Small Business (SDVOSB) that specializes in metal stamping, Computer Numerical Control (CNC) milling and turning, water-jet cutting, and sheet metal fabricating and assembly.
The Mentor Protégé Program provided the resources to facilitate Crowley Fabricating & Machining Co., Inc. identification of strategic initiatives to enhance their business processes and highlighted exceptional growth opportunities. These recommended improvements focused on integration and activities automation, bridging Crowley Fabricating & Machining's technological investments with company strategy.
SCORE, with Lockheed Martin Owego and Crowley, facilitated the development of a detailed project plan that identified and prioritized tasks required to implement recommended improvements. This project plan integrated various initiatives and identified key resources/dependencies. This detailed plan was then briefed to Mr. Ken Carkhuff, Acting Director for Small Business (NAVAIR Headquarters) and Mr. Brad Taylor, Assistant Director, Office of the Secretary of the Navy, Small Business Programs.
With 20% of its employees as veterans or spouses of veterans, Crowley's achievements include: a 33% increase in company employee growth, a 97% increase in annual revenue, more than six DoD prime contracts awards, and more than 360 DoD subcontract awards; as well as increased technical innovations and capabilities, including Coordinate Measuring Machine (CMM) techniques, spot welding, sheet metal fabricating expansion, achievement of ISO9001 and AS9100 certifications, and enhanced cyber security readiness.
"The well-deserved success of the recently completed agreement can be attributed to setting high goals, planning and re-prioritizing as required, good old-fashioned hard work and excellent communications among the mentor, protégé and the sponsoring program office," said Ken Carkhuff, Naval Air Systems Command (NAVAIR) Office of Small Business Programs.
Crowley Fabricating specializes in sheet metal fabrication. It's a Service-Disabled Veteran-Owned Small Business. Through the partnership with Lockheed, the company now contributes to Navy and Presidential helicopter programs. "They taught us how to do business differently, using integrated enterprise software to drive our processes, resulting in improved manufacturing capabilities and increased employment from about twenty employees to forty employees. This is bringing more work into the area which is a good thing about this program," said Crowley President Tom Crowley. Crowley's fabrications will be used in the manufacturing of Lockheed Martin ground vehicles as well as space and satellite systems including the F-35 program.
This initiative is exemplary of how to use tax payer resources to create jobs and provide best value in use of taxpayer dollars. It should also be noted that the Small Business Mentor-Protégé Program is championed by local Congressman Richard Hanna.
Media:
Defense Department Honors Lockheed Martin, Crowley Fabricating
Celebrating Success
For more information about SCORE and how SCORE can assist you, please call the Binghamton Chamber of Commerce, (607) 772-8860, to request an appointment. You may also visit our Chapter's website at https://greaterbinghamton.score.org.
About SCORE: SCORE is a nonprofit association dedicated to helping small businesses get off the ground, grow and achieve their goals through education and mentorship. We have been doing this for nearly fifty years. Because our work is supported by the U.S. Small Business Administration (SBA), and thanks to our network of 11,000+ volunteers, we are able to deliver our services at no charge or at very low cost.