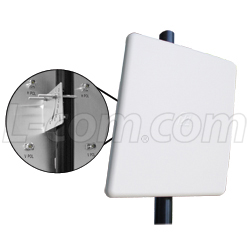 'Large venues with high-concentrations of wireless users...[have] difficulties with wireless coverage. Our high-density antenna solves these problems...minimizes interference, improves coverage & provides greater capacity.' - Ken Burgner, Product Manager
NORTH ANDOVER, Mass. (PRWEB) September 01, 2016
L-com Global Connectivity, a preferred manufacturer of wired and wireless connectivity products, announced today that it has released a dual-polarized, high-density MIMO antenna.
L-com's HyperLink brand HG2458-13HDP-4NF is a dual-polarized, high-density MIMO antenna that features a narrow beamwidth in both vertical and horizontal polarization. This allows the antenna to be positioned exactly where needed to reduce channel-to-channel interference and increase capacity. The high-gain of the HG2458-13HDP-4NF allows for greater distance between the antenna and the user(s), which is ideal in large venues such as stadiums and arenas.
In addition to supporting high-density applications, the HG2458-13HDP-4NF is also dual-band and dual-polarized. This versatile MIMO antenna combines four dual-band antennas in a single housing. The unit consists of two vertical and two horizontal polarized, multi-patch antennas. These are accessed via four separate N-female connectors on the rear of the antenna. Each port on the HG2458-13HDP-4NF can support 2.4 GHz and 4.9-5.8 GHz frequencies. By providing coverage for the full Wi-Fi band, this antenna is compatible with many of the new generation IEEE 802.11ac MIMO radios.
"Large venues with high-concentrations of wireless users, such as stadiums and convention centers, often have performance and capacity issues that cause difficulties with wireless coverage. Our high-density antenna solves these problems with a focused beamwidth that minimizes interference, improves coverage and provides greater capacity," said Ken Burgner, Product Manager.
Designed for both indoor and outdoor operation, the HG2458-13HDP-4NF features a heavy duty UV-resistant radome and ships with a tilt and swivel mast mount kit that provides quick installation at various degrees of up/down tilt.
For more information about this release, please contact:
Peter McNeil, Marketing Manager
978-682-6936 x1174, mailto:pmcneil(at)l-com(dot)com
About L-com Global Connectivity:
L-com Global Connectivity, a preferred manufacturer of wired and wireless connectivity products, offers a wide range of solutions and unrivaled customer service for the electronics and data communications industries. The company's product portfolio includes cable assemblies, connectors, adapters, computer networking equipment, and custom products, as well as their HyperLink® brand of wireless products which includes antennas, RF amplifiers, coaxial lightning and surge protectors, and NEMA rated enclosures. L-com's HyperLink® wireless products are designed for WiFi, WiMAX, SCADA, 802.11a/b/g/n/ac, RFID and Bluetooth applications. In addition to HyperLink® , L-com's other brands include MilesTek®, specialists in Military/Aeronautics connectivity solutions, Aiconics®, a leading manufacturer of electrical connector products and Point Six™ Wireless, pioneers in the design and manufacture of wireless sensors used in IoT applications. Trusted for more than 30 years, L-com, which is headquartered in North Andover, Mass., is ISO 9001: 2008 certified and many of its products are UL® recognized. For more information, please visit: http://www.L-com.com/