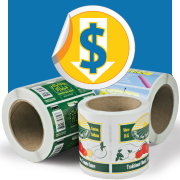 This offer is a way to say thanks to our nationwide network of resellers for their continued support, it's also an opportunity to remind our resellers that we're easily accessible to help them meet the needs, deadlines and price points of their customer
Louisville, KY (PRWEB) August 29, 2016
Just as the Labor Day holiday celebrates the nation's workers, Discount Labels wants to acknowledge our reseller customers by cutting prices 15% on one, two and three-color, quick-ship labels up to quantities of 10,000.
In turn, resellers will be able to convey a triple-play winner to their customers—fast turnaround, lower prices, and top quality. The discount applies to die-cut, circle, oval and seal, square-cut, special-shape and AnyShape® labels on a wide variety of stocks.
"While this is a straightforward offer to say thanks to our nationwide network of resellers for their continued support, it's also an opportunity to remind our resellers that we're easily accessible to provide instant quotes, selling tips and insights to help them meet the needs, deadlines and price points of their customers," says Mike Gore, VP Operations for Discount Labels. "The message speaks volumes to our ongoing efforts to find cost efficiency and savings anywhere we can."
Gore points out that Labor Day and Discount Labels share another vitally important link. "Labor Day is a quintessential US holiday. Our products are manufactured in the US," he says. "With all that's going on across the globe right now, it's a good time to stop for a moment and appreciate everything we have right here at home."
Resellers wanting immediate quotes, additional information, or to discuss ideas can reach out via the web (http://www.discountlabels.com), email (quotes(at)discountlabels(dot)com) or phone (800-995-9500). For those wanting to visualize different label looks, feels and functions, Discount Labels can make it happen through our large sample department featuring hundreds of standard, unique and specialty label samples. Email marketing(at)discountlabels(dot)com to get samples fast and free.
About Discount Labels:
Discount Labels specializes in die cut labels, premier labels, durable labels, UL labels, variable data labels, printer labels, magnets, stamps and promotional products for every industry including automotive, construction, healthcare, manufacturing, restaurant and retail. Discount Labels sells through the largest authorized label distributor network in the U.S. and Canada. Eligible dealers are active in one of the following industries: printing, graphic arts, specialty advertising, business forms, packaging and shipping, signs, banners, rubber stamps, or office products. Established in 1965, Discount Labels has grown to be America's largest wholesale label supplier. Find more information at http://www.discountlabels.com and visit us on Facebook, Twitter and Google+.