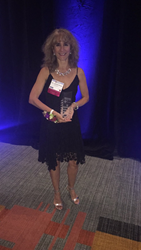 The five words that embody what motivates me are: faith, family, friends, love and compassion.
(PRWEB) August 31, 2016
The Philadelphia Business Journal hosted the fifth-annual Minority Business Leader Awards at an evening cocktail reception on Thursday, August 25th. The event honored the Philadelphia region's top minority business leaders based on their demonstrated professional success and community over the past 12 to 18 months. This year's nominees were all extremely qualified, making this year's pool of winners the most competitive and difficult to select in the history of the awards.
Among the 23 honorees was Ana Fernandez-Parmet, President of Parmetech Inc. Just like her fellow winners, Ana has had to overcome obstacles on her path to success. "It can be very intimidating and nerve wracking to go out on a limb as an entrepreneur/business owner. Young professionals need to learn how to 'sell' themselves. It is crucial that they know their value proposition and know how to articulate it in a concise and compelling way in a minute or less. It is so important to be truly 'present' in everything that you do."
Despite both professional and personal obstacles, Ana has experienced great success in her career and has truly made a mark on the Greater Philadelphia business community. This success has been recognized in her professional achievements and community impact and leadership, as well as awards – in 2015 Ana was recognized as a Smart CEO Future 50 Award winner and in 2016 she was recognized as one of Enterprising Magazine's Enterprising Women of the Year.
Nominated for the PBJ MBL Awards by Valerie Cofield, President and CEO of Eastern MSDC, Valerie recognizes Ana's willingness to help others succeed. "She is constantly making herself available to women who she meets, encouraging them to meet with her especially when they are considering getting their business certified. She loves to connect business men and women to other business women."
When asked what advice she would give to young people just entering the workforce, Ana shared that she believes it is very important to send handwritten notes to people whom you meet and who are willing to spend their time to help you on our journey. "Gratitude and appreciation should be expressed on a regular basis!"
Congratulations to Ana and all of the 2016 Philadelphia Business Journal Minority Business Leader Awards Honorees!
About Parmetech
Parmetech is a WBE/NMSDC and XPPS/MPS Certified full service consulting firm focused around providing business technology solutions and designing work-flow improvements for their clients. Parmetech's key value proposition is their ability to accurately assess and understand a client's environment and priorities before recommending solutions that are right-sized and optimized for their current and future document management and technology life cycle needs. Parmetech received the 2014 Xerox "Oustanding Managed Print Service (MPS) Execution and Performance" and 2015 XAD Partner of the Year awards. Offices are located in Havertown, PA and Philadelphia, PA. For more information, please visit http://www.parmetech.com