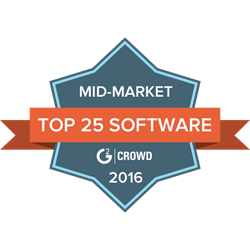 CallTrackingMetrics stood out among others in the Inbound Call Tracking category with high levels of user-satisfaction
Severna Park, Maryland (PRWEB) August 30, 2016
CallTrackingMetrics, a leading provider of call tracking software, was included in the Top 25 Mid-Market Software Products, in a recent report published by G2 Crowd, a premiere business software review platform.
These scores are determined by a reviewers' likeliness to recommend CallTrackingMetrics to a friend or colleague, with satisfaction rankings generated by actual users of the software. CallTrackingMetrics currently holds a high-performance badge with a 4.6 star rating from over 250 customer reviews.
"It's an honor to be included in this group and we are so appreciative of our customers taking the time to write about their experiences using our software. The reviews are immensely useful for our strategic planning as they give us fantastic ideas for product innovation and service approaches", said Todd Fisher, chief executive officer of CallTrackingMetrics. "Our team remains committed to helping customers successfully track, analyze and manage calls to increase their advertising ROI."
"CallTrackingMetrics stood out among others in the Inbound Call Tracking category with high levels of user-satisfaction and many mid-market reviewers likely to recommend the product" confirmed Marty Duffy, director of research, G2 Crowd.
To learn more about CallTrackingMetrics award-winning solutions, visit CallTrackingMetrics.com or call 800-577-1872.
About CallTrackingMetrics:
CallTrackingMetrics's award-winning phone system provides thousands of businesses around the world the tools they need to track, manage, and optimize their phone calls so they can increase conversions. From understanding what advertising campaigns are generating phone calls to routing and monitoring calls for their call center, CallTrackingMetrics allows businesses to transform phone communication into powerful intelligence for their organization. Integrations with systems like Google Adwords and Analytics, Salesforce, Marketo, and Optimizely ensure that calls are seamlessly integrated into existing reporting.