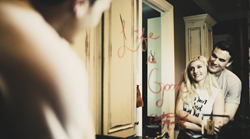 The lyric video for 'Life Is Good' is really a reflection of all the good things in my own life in the country
Nashville, TN (PRWEB) August 29, 2016
Country singer-songwriter Electra Mustaine announced today she has just completed a new lyric video for her new single "Life Is Good" that will premiere this week on Rolling Stone Country on Wednesday, August 31st.
"The lyric video for 'Life Is Good' is really a reflection of all the good things in my own life in the country," says 18-year old Electra Mustaine. "The video shoot was a blast with everyone pitching in on the farm to help. Cameos include family, friends, neighbors, my horses Gerrit & Rocky-- and even my little dog Gunnar! We had a great time creating it. I really hope fans enjoy and find inspiration from my new video!"
"Life Is Good" is an original song co-written by Electra Mustaine, Nathan Chapman and Blair Daly. Accomplished country artist Steve Wariner made a guest appearance performing guitar on the new single. The lyric video was shot on-location at the Mustaine Farm in Franklin, TN. Electra found inspiration on her farm for her original creative concept of the video which she directed. "Life Is Good" is currently available for purchase on iTunes.
Video Credits for the "Life Is Good" lyric video:
Director: Electra Mustaine
Videographer: Dustin Haney
Editing/Motion Graphics: Chris Harless of Blue August
Makeup: Erica Faith Adcock
Actor / Model: Adam Woolard
Electra Mustaine is a Nashville singer/songwriter originally from the small town of Fallbrook, CA. Like her famous father, Dave Mustaine, founder of the internationally acclaimed rock band Megadeth, Electra is herself a bit of a rebel. However, instead of rock, Electra followed her heart with country music. Performing at county fairs and NASCAR events she relocated to Music City in 2014 at age 16 to focus on her music and songwriting – collaborating with some of Nashville's best songwriters.
Weblinks: http://www.ElectraMustaine.com / http://www.twitter.com/electramustaine / http://www.instagram.com/electramustaine/ https://www.facebook.com/ElectraMustaineMusic/
To arrange press interviews with Electra Mustaine, contact Publicist Liz Motley at LizMotley(at)me(dot)com.
###
Suggested Tweet: NEWS! @ElectraMustaine to premiere new lyric video for #LifeIsGood on @RSCountry 8/31! RollingStone.com/Country