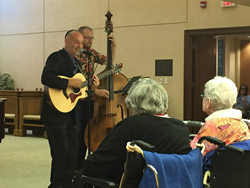 Rabbi Blane has a style that is contagious and brings smiles to those he meets.
Rockleigh, NJ (PRWEB) September 19, 2016
On Friday, September 16th Rabbi Steve Blane, Founder of Sim Shalom online synagogue, and Dean of JSLI, Jewish Spiritual Leader's Institute, brought his love of jazz and Judaism together at the Rockleigh, NJ Jewish Home. Joined by New York bass player Kevin Hailey they performed Rabbi Blane's original songs as well as Jazz Standards and traditional Jewish prayers for the residents.
As soon as Rockleigh Jewish Home Sunni Herman, Exec VP, encountered Rabbi Blane she decided to bring him to share his musicality at the Jewish Home. "Rabbi Blane has a style that is contagious and brings smiles to those he meets." And smile they did when Blane sat at the piano and crooned "Bei Mir Bist Du Schon." "Sunrise, Sunset" from Fiddler on the Roof is a standard at Sim Shalom Kabbalat Shabbat services and his original song, "Youth is Wasted on the Young." brought knowing looks from the seniors.
The jazz and Judaism combination is not new for Blane. On Rosh Hashana and Yom Kippur 5777 he will lead services with a jazz quartet at the iconic Bitter End in New York City. For more information and to see a video of last year's services click here.
About Sim Shalom and JSLI:
Sim Shalom is an interactive online Jewish Universalist synagogue which is liberal in thought and traditional in liturgy. Created in 2009 by Rabbi Steven Blane on Manhattan's Upper West Side, Sim Shalom offers a means of connecting the unconnected. Rabbi Blane leads accessible and short Kabbalt Shabbat services every Friday night using a virtual interface and additionally Sim Shalom provides online education programs, Jazz concerts, conversion and life-cycle ceremonies along with weeknight services at 7:00PM EST led by Rabbis and students of this online community.
Rabbi Blane is also the founder and dean of the Jewish Spiritual Leader's Institute, JSLI, a rabbinical school for professionals.
Sim Shalom, a non profit 501 © (3) tax-exempt organization, nurtures a Jewish connection through its mission of innovative services, creative education and dynamic outreach to the global community. For more information visit http://www.simshalom.com or call 201-338-0165