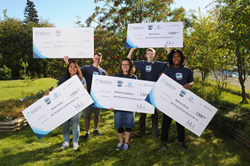 ANCHORAGE, Alaska (PRWEB) August 29, 2016
Alaska Communications, in partnership with Boys & Girls Clubs – Alaska, announced its six 2016 Summer of Heroes youth heroes Sunday, Aug. 28, at the Alaska State Fair. At the ceremony, Corey Allen-Young joined Diedre Williams, vice president, human resources, at Alaska Communications, and Alana Humphrey, CEO of Boys & Girls Clubs – Alaska, to recognize this year's honorees for their community service efforts and present each youth with a $1,500 scholarship check.
Now in its sixth year, the Summer of Heroes program promotes awareness and support for youth development programs throughout the state. As part of the program, Alaska Communications and Boys & Girls Clubs – Alaska recognize youth who make significant contributions to his or her community through acts of charity, bravery or achievement.
This year's Summer of Heroes honorees hail from Anchorage, Homer, Noorvik and Kiana. The 2016 heroes are:

Adam Skelton, age 17, Anchorage – After learning about the deficit of reading materials in Alaska's rural communities, Adam Skelton created Rural Alaska Reads, a non-profit organization with a mission to promote literacy throughout rural Alaska by collecting books and collaborating with local airlines to ship them to rural health centers. Among a variety of other volunteering activities, for the last two years, Adam has helped lead a group of kids at Camp Shriver, a Special Olympics camp that allows intellectually disabled children and their leaders to practice sports together. With a 4.0 GPA in tow as he embarks on his senior year of high school, Adam is looking to pursue his higher education in the Lower 48 to begin his academic path to medical school.
Jenevia Wika, age 17, Anchorage – In addition to her work as a captain with Special Olympics, Jenevia collected clothing for Teens for Jeans, leading to her being chosen as the 2015 Alaska Youth Ambassador for Youth Service America (YSA), and being honored by DoSomething.org. She then applied this award money to create a ski program at Covenant House, an organization which serves homeless and at-risk youth ages 13-21 through a variety of programs. At her school this year, she implemented the You Are Not Alone (YANA) suicide awareness and prevention outreach program, earning her a role as a state presenter for the statewide program. Jenevia is looking forward to her senior year at South High School, and hopes to follow the path of her two older sisters and attend Gonzaga University in Washington next fall.
McKenzie Brown, age 16, Noorvik – After hours of rigorous coursework at school, McKenzie packs her bag and heads to the Boys & Girls Club of Noorvik each day to help members with homework, lead sports and play sports with kids and fellow volunteers. Additionally, for the last three-and-a-half years, McKenzie has also been a part of the Youth Leadership Council at her high school, venturing across the nation to attend conferences and learn about the environment, health, leadership and emotional welfare. Last year, the program granted her the opportunity to shake hands with President Obama and hear him speak to a group of her peers, which she described as the best feeling in the world. McKenzie hopes to continue serving her community in her future, as she looks to pursue a career as a surgeon.
Michaiah Youngblood, age 17, Kiana – At age 16, Michaiah earned her Emergency Trauma Technician and Emergency Medical Technician certificates, and has used her certifications to assist with providing healthcare services and screenings throughout Kiana. In addition to her medical training, Michaiah was able to graduate high school one year early, and in her spare time, volunteers at the Kiana School as a math tutor for third and fourth grade students, and working in the student store during many of the school's sports events. Michaiah has also sought out numerous opportunities to help her community during the summer, including helping manage Kiana's Alaska Food Bank Summer Food Service Program and helping organize a children's choir in Kiana. In August 2016, Michaiah will start taking college courses, and will also further her medical training to become a community health aide for the Maniilaq Healthcare Association when she turns 18.
Tatiana Ticknor, age 17, Anchorage – Tatiana is a powerful role model for native youth and leads by example by giving back to the Anchorage community. As a high school junior, Tatiana was selected among 15 Anchorage youth appointed by Mayor Berkowitz to serve on the Youth Advisory Commission. She also organizes and shares a "Dena'ina Word of the Day" using social media to reach other youth across Alaska and encourage others to practice their language. In 2015, Tatiana joined three other Native American youth from across the country for a panel discussion with President Obama at the 2015 Tribal Nations Conference. This July, Tatiana participated in the 2016 conference with the United National Indian Tribal Youth (UNITY), earning the second national award under the "25 Under 25" category. In the future, Tatiana plans to stay active in her role on the Governor's Youth Advisory Commission and ensure that perspectives from Alaska native youth are included in local, state, and national dialogues.
Robert Martin, age 17, Homer – Robert spends a majority of his free time in the service of others, through his involvement in the Boy Scouts of America program. Through his rigorous scouting program, he has transformed from shy young man into leader to the younger boys in his scout troop. Most recently, Robert completed his Eagle Scout project where he organized and supervised the construction of a much-needed storage building at the Homer Visitors Center. Not only did the project cultivate his leadership skills, but the added storage also allowed the visitor's center to clear up some space that was necessary to better serve its guests. From community coastal clean-ups to fishing trips, Robert works diligently each day to be a positive and productive member of the Homer community. In addition to his dedication to community service, Robert also maintains an exceptional academic record and hopes to pursue a career as an astronaut.
Since 2011, the Summer of Heroes program has recognized Alaska's youth heroes, and this year brings the total youth heroes awarded with $1,500 scholarships to 36, for a total of $54,000 in scholarship funds donated. In addition to the scholarship program, Alaska Communications also pledged to donate $25 to Boys & Girls Clubs – Alaska for every new Unlimited or Business Internet contract signed during the nomination period, up to $15,000 total. The final donation amount will be announced during Boys & Girls Clubs – Alaska's 2016 Great Futures Gala and 50th Anniversary on Sept. 24. In the first five years of the Summer of Heroes program, Alaska Communications contributed a total of $75,000 to Boys & Girls Clubs – Alaska to support the non-profit's high-quality youth development programming throughout Alaska.
"Each year of the Summer of Heroes program brings a group of youth honorees that bring new meaning to the word 'hero,'" Alaska Communications President & CEO Anand Vadapalli said. "This year is no exception, with an inspiring group of honorees that have shown their dedication to Alaska. Alaska Communications is proud to recognize their contributions, in partnership with Boys & Girls Clubs – Alaska."
"This year's honorees have shown impressive maturity and a drive to make a positive impact in the world," said Alana Humphrey, CEO of Boys & Girls Clubs – Alaska. "These heroes not only inspire their peers, but impact Alaskans of all ages. We are pleased to join forces with Alaska Communications to recognizing local youth heroes for our sixth consecutive year."
For full biographies of each Summer of Heroes scholarship recipient and more information about Alaska Communications' work in the community, visit http://www.alaskacommunications.com/summerofheroes.
About Alaska Communications
Alaska Communications is a leading provider of advanced broadband and IT managed services for businesses and consumers in Alaska. The company operates a highly reliable, advanced statewide data and voice network with the latest technology and the most diverse undersea fiber optic system connecting Alaska to the contiguous United States. For more information, visit http://www.alaskacommunications.com or http://www.alsk.com.
About Boys & Girls Clubs – Alaska
Boys & Girls Clubs – Alaska has 30 sites statewide, which offer programs before and after school and during school breaks for youth and teens, 7-18 years old, as well as athletics and licensed childcare programs. Mission is fulfilled through guidance-oriented character development activities conducted in safe, warm and fun environments by trained, professional staff. Key programs emphasize academic success, good character & leadership, healthy lifestyles, the arts, sports, fitness and recreation. Learn more about programs and activities offered by Boys & Girls Clubs - Alaska at http://www.bgcalaska.org or 907-248-5437.