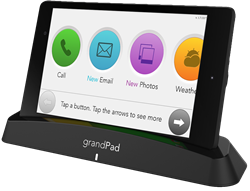 grandPad® is excited to announce the expansion of its service to Switzerland, through a partnership with the major Swiss telecommunications provider Swisscom
Berlin, Germany (PRWEB) August 31, 2016
grandPad® is excited to announce the expansion of its service to Switzerland, through a partnership with the major Swiss telecommunications provider Swisscom. Swisscom will be commencing a pilot program in Switzerland in September 2016, bringing outstanding 4G LTE internet connectivity along with world-class customer service to grandPad users in the nation.
This marks grandPad's expansion outside of the United States, made possible through its strategic partnership with Acer announced earlier this year. Leveraging Acer's global footprint and vast experience in international operations, grandPad can now start to offer its unique and successful service to seniors around the world.
Swisscom, a leader in senior care in their own right, offers many products to help enrich the lives of seniors in Switzerland, including their senior care product line. grandPad CEO Scott Lien says: "We're excited to bring the same benefits our users enjoy in the U.S. to Switzerland. By pairing up with such an established technology leader with deep ties to the senior community, we feel that we have an incredible opportunity to help a lot of people."
Prior to this new partnership, grandPad joined forces with Acer Group to build bridges across industries and create a new accessible reality for America's seniors. "Acer is thrilled grandPad is taking its first step towards global expansion," said Maverick Shih, President of the BYOC Smart Products Business at Acer. "40 years ago, Acer began its own journey of globalization, and now with our competencies and global reach, we hope to facilitate grandPad's growth and bring this life-changing service to even more seniors."
Reto Weber, senior product manager in the Swisscom SmartLife Care line said, "Part of what makes grandPad so versatile and groundbreaking is their ability to form business partnerships with other industry leaders in order to help seniors. Swisscom and the SmartLife line are proud to be in the company of other great brands to help enhance the lives of seniors."
The grandPad Senior tablet is unique because it was designed from the ground up for "super seniors" (those over the age of 75). It includes a number of patent-pending features that make it a delight for super seniors to use and enjoy everyday. The grandPad senior tablet makes the world more accessible to seniors by providing simple and safe ways to stay connected with family, friends and caregivers. The grandPad offers access to games, photo sharing, email, video chat and more.
About grandPad®
Using technology to help bring families together, grandPad® provides innovative solutions that are intuitive, engaging, and safe. Their flagship product, grandPad®, is a solution that privately connects the entire family on a platform built for seniors. With grandPad®, seniors can video chat with the family, check emails in real-time, share photos, play games, and much more. The intuitive, easy-to-use design turns technology into a gateway instead of a barrier, empowering seniors and encouraging them to Live Grand™. grandPad® is a privately held company based in Orange, CA. For more information, please visit https://www.grandpad.net or follow on Twitter @grandpad_social.
About Swisscom
Swisscom, Switzerland's leading telecom company and one of its leading IT companies, is headquartered in Ittigen, close to the capital city Berne. Swisscom's international activities are concentrated mainly in Italy, where its subsidiary Fastweb is one of the biggest broadband providers. Over 21,600 employees generate annual revenue of around CHF 11.6 billion per year. Swisscom is one of the most sustainable companies in Switzerland and Europe.
About Acer
Established in 1976, Acer is a hardware + software + services company dedicated to the research, design, marketing, sale, and support of innovative products that enhance people's lives. Acer's product offerings include PCs, displays, projectors, servers, tablets, smartphones and wearables. It is also developing cloud solutions to bring together the Internet of Things. Acer is celebrating its 40th anniversary in 2016 and is one of the world's top 5 PC companies. It employs 7,000 people worldwide and has a presence in over 160 countries. Please visit http://www.acer.com for more information.