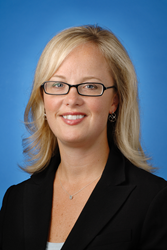 "We are extremely proud of Amy and the work she does daily in driving the success of the company and in creating a culture where all employees have the ability to achieve their full professional potential."
Philadelphia, PA (PRWEB) August 30, 2016
ERT, a leading provider of high-quality patient data collection solutions for use in clinical drug development, today announced that its Executive Vice President of Cardiac and eClinical Insights, Amy Furlong has been named one of Philadelphia's Most Powerful and Influential Women by the National Diversity Council. The award recognizes women who have achieved personal success and have made it possible for others to easily follow in their footsteps.
"Amy has a long record of accomplishments at ERT, including the development of solutions that are relied on by pharmaceutical companies around the world, the growth of our highly effective global operations team, and her initiation and ongoing involvement in the ERT mentoring program," said Jim Corrigan, President and CEO, ERT. "We are extremely proud of Amy and the work she does daily in driving the success of the company and in creating a culture where all employees have the ability to achieve their full professional potential."
Amy is one of 11 women being recognized for their leadership in the workplace as well as their contributions and commitment to the well-being of their communities.
"I am always honored to be in the presence of outstanding individuals like Ms. Furlong who advocate for diversity and inclusion in the workplace," said Dennis Kennedy, Founder and Chairman of the National Diversity Council. "Their achievements epitomize the exceptional capabilities of individuals from all backgrounds."
For additional information on ERT, visit http://www.ert.com.
About ERT
ERT is a leading provider of high-quality patient data collection solutions for use in clinical drug development. ERT delivers a combination of technology, services and clinical consulting that increase the accuracy and reliability of patient data and improve the efficiency of the clinical development process. ERT delivers widely deployed solutions in centralized Cardiac Safety, Respiratory, and electronic Clinical Outcome Assessments (eCOA) – which includes patient-, clinician-, observer- and performance-reported outcomes – and cloud-based analytics and performance metrics. By efficiently integrating these solutions through a system built upon a scientific and regulatory foundation, ERT collects, analyzes and delivers safety and efficacy data critical to the approval, labeling and reimbursement of pharmaceutical products. For more information see http://www.ert.com. Join ERT on LinkedIn, Twitter, YouTube and Facebook.