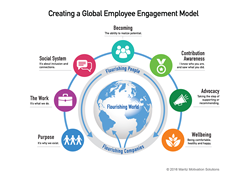 St. Louis, MO (PRWEB) August 30, 2016
Maritz Motivation Solutions, The Maritz Institute and the Employee Engagement Awards have joined together to develop a new model for employee engagement, working with input and feedback from practitioners around the world.
According to Kimberly Abel-Lanier, VP and General Manager for CultureNext® workforce solutions at Maritz Motivation Solutions, the model will serve as a tool for organizations to benchmark against for core areas of engagement. It is intended to help shape best practices and to be used for a variety of purposes, such as certification programs, further education and conferences, she said.
"The world of work is changing. Employee engagement is a fairly new concept, yet it is critical for employee retention and company growth. Some 90% of the practitioners we surveyed say they need and would value a model to understand the core areas of engagement and help identify where they need improvement," Abel-Lanier said.
Maritz began the development process by reviewing the latest research. Most of the current engagement models and frameworks have been created by academics and consultants, and none has been widely accepted.
"Most of the work that has been done in this area is purely academic. Our goal is to create an effective model that companies can actually use, which can be modified and adapted as needs change," Abel-Lanier said.
Combining real-world insight and research in the social sciences, Maritz has identified seven dimensions that are key to engagement:

Purpose (why we exist)
The work (what we do)
Social system (inclusion and connections)
Becoming (the ability to realize potential)
Contribution awareness (recognition of effort and achievement)
Advocacy (the step of supporting or recommending)
Well-being (being comfortable, healthy and happy)
Development has continued over the past few months with feedback from HR and employee engagement practitioners. At the Employee Engagement Summit, held in Chicago in June, 200 attendees shared their input on the basic framework. Maritz has also held interactive webinars during the summer. The third in the series of three webinars is scheduled for Thursday, September 1, from 10 a.m. to 11 a.m. ET. To register, go to http://go.maritzmotivation.com/eewebinar
"We want this to be a very rigorous process and there's much more work to be done to collect feedback," Abel-Lanier said.
About Maritz Motivation Solutions
Maritz Motivation Solutions has been a global leader in employee recognition for over 75 years. Maritz's CultureNext solution empowers employees to transform their organizations into amazing places to work. CultureNext provides organizations with flexible technology, tools, services and expansive rewards to help connect people worldwide to create a culture of engagement, passion and purpose. For more information, visit us at http://go.maritzmotivation.com/culturenext
# # #