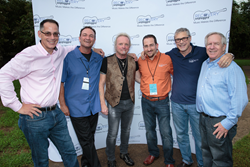 I'm very excited to see a treatment center here that truly serves the soul of Austin culture through music.
Austin, TX (PRWEB) September 01, 2016
On August 18th, Florida-based addiction care organization Recovery Unplugged® Treatment Center held an opening reception for their new Austin, Texas facility.
Approximately 60 guests, including the chair of the Austin Chamber of Commerce, mingled over a Rudy's BBQ buffet, after which Recovery Unplugged staff members spoke about their experiences in recovery. A client, who has been attending the Austin facility and has been clean for 30 days, described her journey to recovery, followed by a finale of performances by staffers and local musicians who will assist in therapy sessions. Aerosmith's Joey Kramer, a long-standing supporter of addiction treatment and the recovery process, made a special appearance. Also in attendance, Ivana Grahovac, Executive Director of Austin Recovery, Austin's oldest non-profit treatment provider said, "I'm very excited to see a treatment center here that truly serves the soul of Austin culture through music."
Recovery Unplugged® uses "musical immersion" and a customized blend of therapies to affect behavioral change, to sustain sobriety after treatment and to combat relapse. Since opening almost three years ago in Ft. Lauderdale, Recovery Unplugged® has achieved patient-completion and long-term sobriety rates that are over three times the national average. Their treatment results have proven to be so promising that Nova Southeastern University is now studying the Recovery Unplugged® treatment model, with research findings scheduled for release by year's end. Thus far, their research has revealed an extremely low AMA rate (the rate at which patients leave their program before completion) of less than nine percent compared to the national average of 39 percent.
"More of our clients stay in treatment because, as focus group research tells us – they like being in our program, which is not always the case elsewhere. Also, more therapy equals better results," said Paul Pellinger, Recovery Unplugged® Chief Strategy Officer.
The medical staff at Recovery Unplugged® – Texas is led by Carlos F. Tirado, M.D., M.P.H., F.A.B.A.M. Dr. Tirado, a leader in the field of addiction medicine who has held medical director positions at community-based, non-profit and private for-profit residential, intensive outpatient, outpatient and opioid treatment programs. Recovery Unplugged – Texas offers its own detoxification facility and inpatient residential treatment.
"Music is at the heart and soul of the Austin community, and it makes so much sense to put it to work in addressing one its most challenging social ills. Recovery Unplugged has now opened this second front in the battle for recovery from addiction in Austin, in Texas and throughout America, and we couldn't more pleased to see this effort come to fruition," said Pellinger.
Residents of Texas and surrounding areas will now have easier access to RU's innovative brand of comprehensive, individualized, music-based addiction treatment. For more information on Recovery Unplugged – Texas and the Recovery Unplugged program, go to rutexas.com or call (855) 200-0124.
Video Link: Austin rehab center beating addiction through music
(NBC Affiliate KXAN-TV)
About Recovery Unplugged®
Recovery Unplugged® Treatment Center is an alcohol and drug rehabilitation facility based in Florida and Texas that offers a unique and long lasting approach to recovery. The center combines traditional and cognitive behavioral approaches that use music as a catalyst to break down defenses, inspire, and motivate the change necessary for long-term recovery and sobriety. Recovery Unplugged® is committed to providing hope and healing using music to help individuals suffering from addiction all over the United States.