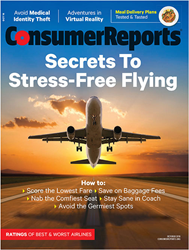 It's vital that consumers remain vigilant and ensure their records are not compromised – and, in the case of fraud, move quickly to protect themselves.
Yonkers, NY (PRWEB) August 30, 2016
Medical identity theft – when someone steals personal data to get prescription drugs, medical care or surgery – is on the rise, according to "Body Snatchers," an article in the October issue of Consumer Reports. The report explores the issue and includes tips on how consumers can protect themselves.
Personal health insurance information, which can include an individual's Social Security number, address and email address, are vulnerable to theft. Consumers' medical identities can be used to falsify insurance claims, fraudulently acquire government benefits, including Medicare or Medicaid, and to get prescription drugs and steal expensive medical services, even surgery.
While all people are at risk, some groups are more likely to fall victim to medical identity theft. Children's health records are aggressively pursued by criminals because minors' credit reports are not closely monitored. New mothers, surgery patients, and people with chronic conditions are also at higher risk for medical identity theft because they interact with the health system more often, providing more opportunities for records to be breached.
When consumers become victims of medical identity fraud, stopping the damage and clearing up bills and paperwork is much more difficult and time consuming than financial fraud. This is partially due to the fact that detecting medical identity fraud in the first place can be difficult, possibly continuing for years before the victim realizes what has occurred.
According to one recent report, 65% of medical identity theft victims said they spent an average of $13,500 to resolve problems stemming from the fraud, including medical bills that they did not incur, or to pay for services such as legal fees. Beyond the financial aspect of medical identity fraud, the thief's own medical treatment, history, and diagnoses can get mixed up with the victim's electronic medical records – potentially complicating the victim's medical care for years.
Regulatory Environment & Industry Advancements
While there are medical privacy laws in place to protect consumers, they're not always enough. The Health Insurance Portability and Accountability Act of 1996 (HIPAA) outlines who can access your personal information and how they can use and share it. More recently, the 2009 Health Information Technology for Economic and Clinical Health Act (HITECH), requires that when a security breach takes place and unsecured health data is compromised, all impacted patients must be notified. If the breach affects more than 500 people, the media and federal government must also promptly be informed.
Unfortunately, the laws can also make it more difficult for a victim of medical identity theft to see their own health records once they've been fraudulently commingled with a thief's information.
"There are benefits to electronic medical records and the sharing of medical data such as health diagnoses and treatment information between physicians and medical professionals," said Orly Avitzur, M.D., M.B.A., Consumer Reports' medical director. "But it's vital that consumers remain vigilant and ensure their records are not compromised – and, in the case of fraud, move quickly to protect themselves."
How to Protect Yourself
Consumer Reports offers the following tips to help people protect themselves from medical identity fraud:
Lower Your Risk

Get copies of your medical records and add new information each time you receive treatment
Check your medical records annually
Read every explanation of benefits (EOB) notice from your insurer
If you lose your health insurance card, call and ask for a new ID number
Don't share health information on websites and apps, where it may be less secure
Know that the practice of allowing friends or family members to use your insurance ID is illegal
Ask healthcare providers how they safeguard your info
Spot the Warning Signs

You receive an EOB summary for treatment you never received
A debt collector contacts you about medical bills you didn't incur
Your health insurer informs you that you've reached your benefit limit when you know you haven't
On your credit report there are collection accounts you don't recognize
If It Happens To You

Call the facility where the fraud may have happened
File a police report
File an identity theft report with the FTC
Contact your insurer
Ask your healthcare provider for copies of your medical records
Ask your insurer and medical providers for an accounting of disclosure of your medical records
More information, about medical identity theft, including expanded tips for how consumers can protect themselves, can be found in "Body Snatchers" featured at http://www.ConsumerReports.org and in the October 2016 issue of Consumer Reports magazine.
About Consumer Reports
Consumer Reports is the world's largest and most trusted nonprofit, consumer organization working to improve the lives of consumers by driving marketplace change. Founded in 1936, Consumer Reports has achieved substantial gains for consumers on health reform, food and product safety, financial reform, and other issues. The organization has advanced important policies to cut hospital-acquired infections, prohibit predatory lending practices and combat dangerous toxins in food. Consumer Reports tests and rates thousands of products and services in its 50-plus labs, state-of-the-art auto test center and consumer research center. Consumers Union, a division of Consumer Reports, works for pro-consumer laws and regulations in Washington, D.C., the states, and in the marketplace. With more than eight million subscribers to its flagship magazine, website and other publications, Consumer Reports accepts no advertising, payment or other support from the companies whose products it evaluates.
__________
AUGUST 2016
© 2016 Consumer Reports. The material above is intended for legitimate news entities only; it may not be used for advertising or promotional purposes. Consumer Reports® is an expert, independent nonprofit organization whose mission is to work for a fair, just, and safe marketplace for all consumers and to empower consumers to protect themselves. We accept no advertising and pay for all the products we test. We are not beholden to any commercial interest. Our income is derived from the sale of Consumer Reports®, ConsumerReports.org® and our other publications and information products, services, fees, and noncommercial contributions and grants. Our Ratings and reports are intended solely for the use of our readers. Neither the Ratings nor the reports may be used in advertising or for any other commercial purpose without our permission. Consumer Reports will take all steps open to it to prevent commercial use of its materials, its name, or the name of Consumer Reports®.