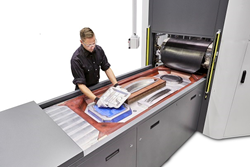 Quintus technology has a strong role to play in helping aviation industry suppliers lower costs in an increasingly competitive arena.--Jan Söderström, Quintus CEO
Västerås, Sweden (PRWEB) August 30, 2016
Alestis Aerospace, the Spanish manufacturer of airframe and fuselage sections, has taken delivery of a QUINTUS® High-Pressure Fluid Cell Press to support the growth plans of aircraft giants Airbus and Boeing.
The new 800 bar (11,600 psi) fluid cell press will replace aging low-pressure equipment at the Alestis facility in Vitoria, in northern Spain. The modern press will allow substantial reduction of manual labor, decrease the number of process steps, and extend capacity to accommodate an anticipated ramp-up in production demand.
Conveniently located close to the Airbus assembly center in Toulouse, France, the Vitoria plant is the Alestis center of excellence for sheet metal fabrication and sub-assemblies, concentrating on various aluminum alloys and, lately, new titanium alloys.
The 17,000 ton press-force Quintus press, with a forming area of 700 x 1800 mm (27.6 x 73 inches), will introduce a number of production efficiencies. The hydroform process requires only one rigid tool half, generating significant tool cost savings and eliminating several forming operations, intermediate heat treatments, and operator dependencies.
"Quintus supplies the most advanced high-pressure equipment available, and our technology has a strong role to play in helping aviation industry suppliers lower costs in an increasingly competitive arena," notes Jan Söderström, CEO of Quintus Technologies in Sweden. "Alestis is moving ahead on a growth trajectory that includes globalizing its operations, and we expect our long-term technology transfer program and comprehensive training and support to give them a head start."
Adds Jean Fernandez, Quintus Sales Manager for South Europe, "There is a clear trend within the European lower tier aerospace supply chain to carefully review and evaluate how to potentially cut labor-intense fabrication steps. These initiatives are critical to match competition from low-cost countries, as well as to manage the requirements for increased production capacity. The ability to combine a higher level of forming die design with modern high-pressure forming technologies provides substantial time and cost savings to meet market demands."
About Quintus Technologies
Quintus Technologies specializes in the design, manufacture, installation, and support of high-pressure systems for sheet metal forming and densification of advanced materials and critical industrial components. Headquartered in Västerås, Sweden, and represented in 35 countries worldwide, the company is the world leader in high-pressure technology and has delivered more than 1,800 systems to customers across the globe within industries such as aerospace, automotive, energy, and medical implants. Read more about Quintus Technologies at http://www.quintustechnologies.com.
About Alestis Aerospace
Headquartered in Seville, Spain, Alestis Aerospace is a first level (TIER 1) aerostructure supplier and a leader in engineering and composite materials manufacturing. With five facilities in Spain and one in Brazil, Alestis is well equipped to assume full responsibility for complex aerostructure engineering, design, development, manufacturing, and product support. Read more about Alestis at http://www.alestis.aero/