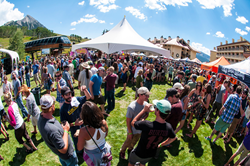 Photo: Trent Bona
Crested Butte, Colorado (PRWEB) September 01, 2016
Crested Butte pays homage to its mountain biking heritage with ONE GOOD WEEKEND—September 9-11, 2016. Here are the top 10 reasons to come to ONE GOOD WEEKEND.
#1 BIKES
Crested Butte and the Gunnison Valley has 750+ miles of singletrack more than anywhere in the world. Festival passes include two days of lift-served XC and downhill riding for all.
#2 Craft BEER
24 Colorado breweries will pour their beers. Folks like Oskar Blues, Odell Brewing, and Revolution Brewery. Festival goers will enjoy free beer throughout the festival, too.
#3 Live MUSIC and MOUNTAINS
There's music all weekend. Colorado headliners Rapidgrass Quintet and The Reminders serve-up high-energy Bluegrass and HIP-HOP. Panoramic views of the impressive West Elk Mountains surround the stage.
#4 Chili
We can't think of a better pairing for beer, any style. Local cooks will battle it out to see whose recipe reigns supreme.
#5 Ride with mountain biking LEGENDS
6-time Leadville 100 champion Dave Weins, and Mountain Bike Hall of Fame member Doug Bradbury will guide groups of riders on the Meander Trail. Space is limited, so order your festival tickets NOW and reserve your spot.
#6 Autumn
The Summer crowds are gone and cooler mountain temperatures bring striking fall colors. It's a great time to be on a bike in the Home of Mountain Biking.
#7 Winter
We've had snow above 12,500', so winter is fast approaching. Just another reason to get on a bike before trading it in for a board or skis!
#8 Competition
In a town with so many world-class trails, there's always a good amount of friendly competition. We'll be handing-out awards—fastest time, top climber, and even best attitude. Just download Strava and track time and vertical climbing at various stages.
#9 The HOME of Mountain Biking
ONE GOOD WEEKEND is an excuse to ride in Crested Butte, a birthplace of the sport. A town where mountain biking is so ingrained in the culture that 25% of residents say their bike is worth more than their car.
#10 FUN
Crested Butte is a laid-back community always eager to welcome visitors and party. Expect positive vibes, great riding, pint sipping, chili eating, goofy dancing, and more.
GET YOUR TICKETS
Visit http://www.mtbhome.com/one-good-weekend for all of the details on the event. Tickets may be purchased online or by calling (877) 213-5357. Register early to reserve your spot in a guided legends ride.