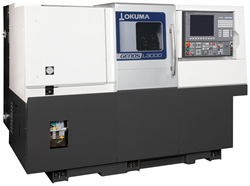 Charlotte, NC (PRWEB) August 31, 2016
Okuma's new GENOS L3000-M one-saddle lathe is stronger, faster and ideal for cutting a wide range of exotic materials with ease. The integral spindle motor provides increased machining capacity as highly rigid guideways handle powerful cutting capabilities. At IMTS 2016 the GENOS L3000-M will be cutting a steel pinion drive for the automotive industry with Iscar tooling, a member of Partner's in THINC.
The GENOS L3000-M has high speed milling, and Y-axis options on specific models allowing users to select the best specifications for a particular workpiece length and shape. Shop floor productivity is increased with a mounted NC tailstock that allows for easy setup of various workpieces. TAS-C (Thermo Active Stabilizer) construction is standard and automatically compensates thermal effects to maintain tight tolerances.
The GENOS L3000-M is an operator-friendly designed machine that simplifies cleaning, filtration and maintenance tasks. User-friendly features include:

A separate cooling tank for quick servicing
Easy spindle access to reduce operator work burden and maintenance tasks
Reduced chip accumulation during long, continuous runs decreases machine downtime for cleaning.
Key features of Okuma's GENOS L3000-M horizontal lathe:
Max Turning Diameter/Length (in), Ø 11.8
Spindle Nose/Chuck (in), A2-8 /10
RPM Range, 38~3,800
Tailstock, NC: MT#5
Rapid Traverse (X/Z), ipm, 984/1,180
Floor Space (in), 98 x 74
Weight (lb), 11,023
For more information on the GENOS L3000-M visit http://www.okuma.com/genos-l3000-turning-center.
About Okuma America Corporation
Okuma America Corporation is the U.S.-based sales and service affiliate of Okuma Corporation, a world leader in CNC (computer numeric control) machine tools, founded in 1898 in Nagoya, Japan. The company is the industry's only single-source provider, with the CNC machine, drive, motors, encoders, and spindle all manufactured by Okuma. The company also designs their own CNC controls to integrate seamlessly with each machine tool's functionality. In 2014 Okuma launched the Okuma App Store, the industry's only centralized online marketplace for machine tool apps and related content. Along with its extensive distribution network (largest in the Americas), and Partners in THINC, Okuma is committed to helping users gain competitive advantage through the open possibilities of machine tools, today and into the future. For more information, visit http://www.okuma.com/americas or follow us on Facebook or Twitter @OkumaAmerica.
###