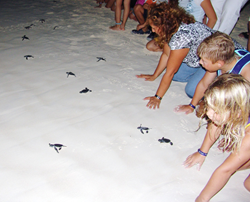 Cancún, Quintana Roo (PRWEB) September 06, 2016
Sunset World Resorts & Vacation Experiences contributes to the "Sea Turtle Protection Program" helping the species that come nest on the beaches of Cancun by setting up a turtle pen to protect their eggs and hatchlings, with promising results, as between July and August more than 1,548 eggs have been laid and protected from harm.
Corporate Security Director at Sunset World, Enrique Caldas, reported that from the beginning of July to the end of August, 14 nests were found in front of Sunset Royal. These nests contained a total of 1,548 green turtle eggs, which were safeguarded immediately and will be hatching soon, after an average incubation period of 45 days.
"When we detect a nest, we move the eggs into the pen as it is imperative that we prevent water from reaching them. The embryos need to breathe through a membrane and when they are covered by water, they can't do that", explained Mr. Caldas.
He added that the program is taking place jointly with the Benito Juárez local government, through the Environmental Department, in charge of training the hotel's staff about the correct handling of the female turtles and their eggs as well as the creation of nests inside the pen which was built following their guidelines.
This program, he stated, is a priority for Sunset World, because these chelonians are catalogued by national legislation as an endangered species. "At Sunset World Resorts we are aware that México is marine turtle country, as the diversity of coastal environments and the expanse of its coastline offer the ideal conditions for them to feed, rest and reproduce," punctuated Enrique Caldas.
Regarding that matter, he explained that out of the seven sea turtle species in the world, six nest in Mexican coasts and four of them in Quintana Roo; the green turtle (Chelonia mydas) the loggerhead (Caretta caretta), the leatherback (Dermochelys Coriacea) and the hawksbill (Eretmochelys imbricata) sea turtles.
For the Corporate Security Director at Sunset World the work done in the hotel chain is truly important so that those over one thousand eggs in the nests can survive and have a chance to hatch. "The sea turtles have deposited them on the beach. It is our job to care for them and do everything we can so they can be born and reach the sea to begin their cycle of life," he concluded.