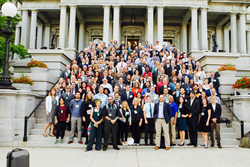 Our Hacker Lab / Sierra College affiliation blends the academic with the DIY nature our country.
Rocklin CA (PRWEB) September 01, 2016
Sierra College's makerspace partner, Hacker Lab proudly represented the Sacramento region at the White House's Nation of Makers, Wednesday, August 24. Hacker Lab is a community-based business offering innovative workspace with prototyping equipment and mentoring for startups, designers and students.
The prestigious, Nation of Makers is a convening of makerspace organizers by the U.S. Office of Science and Technology Policy. Its purpose is to inspire technology, innovation, and Science, Technology, Engineering and Math (STEM) education through grass roots entrepreneurship by showcasing makers and their makerspaces throughout the United States.
Gina Lujan, founder and CEO of Sacramento/Rocklin Hacker Lab, attended the White House event.
"Never in a million years would I ever have thought that I would be in a place where my company would be invited to the White House," said Lujan. "Hacker Lab is so proud to play a role in the incredible innovation created by the Makers Movement. And at the White House it was on full display, as makers from across the country shared their wares and told their stories."
The Maker Movement is the umbrella term for independent inventors, designers and tinkerers. Makers tap into open-source sharing, contemporary design and powerful technology tools to create anything from innovative solutions to pressing common problems to homespun individual projects.
Hacker Lab Powered by Sierra College, located in Rocklin, is a prime example of how community, government, education, and corporations interact for the sake of maker innovation.
"Our Hacker Lab / Sierra College affiliation blends the academic with the DIY nature our country," added Lujan. "Our government knows that the strength of America's future economy will come from the freedom to create in affordable space with tools on tap and collaboration and education close by."
Lujan said those attending Nation of Makers had reason to go back to their communities energized and encouraged, as they received a simple message from the federal government's tech representatives. The US Government has trillions of dollars to spend innovating ways that make our nation stronger and the world a better place, so make a case how important your work is. Sometimes the government will say yes.
Unique to Lujan's Hacker Lab, and one of the many reasons for the White House invite, is their Startup Hustle, a six-week crash course in entrepreneurial skills. Participants have access to methodology, assignments, guest speakers, and mentor connections, ending with "Demo Night," a chance to pitch business plans to possible funders. For more information, visit startuphustle. Applications for the Fall 2016 round are due September 16.
About Sierra College Workforce Development
Sierra College Workforce Development is focused on delivering customized training to meet the needs of employers. Additional information is available at http://www.sierracollegetraining.com.
About Hacker Lab
Established in 2012 in Sacramento, Hacker Lab aims to educate folks and spark innovation with community driven resources. Offering co-working, maker space, courses, meet-ups and events, Hacker Lab believes that technology can change the world and the starting point is education. Hacker Lab has locations in Sacramento and Rocklin. Learn more at the Hacker Lab website http://hackerlab.org/.
About Sierra College
Sierra College District is celebrating its 80th Anniversary in 2016, and the Nevada County Campus in Grass Valley is celebrating 20 years. Sierra College serves 3200 square miles of Northern CA with campuses in Roseville, Rocklin, Grass Valley, and Truckee. With approximately 125 degree and certificate programs, Sierra College is ranked first in Northern California (Sacramento north) for transfers to four year Universities, offers career/technical training, and classes for upgrading job skills. Sierra graduates can be found in businesses and industries throughout the region. More information at http://www.sierracollege.edu