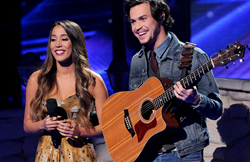 Dana Point, California (PRWEB) September 01, 2016
Alex & Sierra, winners of The X Factor, will perform at the much anticipated Diamond Ball at The Ritz-Carlton, Laguna Niguel on Saturday, November 12, 2016. The Diamond Ball is held each year to support the Wounded Veterans Initiative of Canine Companions for Independence.
The evening will also honor veteran Jason Morgan, United States Air Force (Ret.), and his Service Dog Napal, as well as Anne Roberts, recipient of the Geneva Davis Award, recognizing leadership in individuals who have been ambassadors of Canine Companions' program and its goals to promote and inspire volunteers and volunteer activity.
"The Diamond Ball is a vital charitable event that draws influential leaders and supporters across our community together to raise funds for the Wounded Veterans Initiative of Canine Companions for Independence," said Bruce Brainerd, General Manager of The Ritz-Carlton, Laguna Niguel and founder of The Diamond Ball. "With existing and emerging conflicts around the globe, there are an increasing number of veterans returning home in need of these amazing assistance dogs. We are honored to support Canine Companions so they may continue to change the lives of our veterans in need." he added.
The Wounded Veteran Initiative of Canine Companions for Independence provides an opportunity for veterans to regain their independence through the support of a Canine Companions service animal. To date, Canine Companions has placed 154 assistance dogs nationally with veterans with 119 active teams that include 39 teams from the Southwest Region. There are also 22 current PTSD study placement teams.
In addition to a four-course dinner, entertainment by Alex & Sierra, dancing, and the Diamond Drop, the gala features live and silent auctions with items including luxury hotel stays, dining packages, golf getaways, fine jewelry, and once-in-a-lifetime experiences. Diamond Ball tickets are $250 per person and sponsorships are available. For more information, to purchase tickets, or become a sponsor, visit http://www.TheDiamondBall.org.
About Alex & Sierra
Florida-based Alex & Sierra are a vocal duo featuring Alex Kinsey and Sierra Deaton, who make romantic, acoustic folk-pop. Formed in 2009, Alex & Sierra are best known as the winners on the third season of the Fox vocal competition The X Factor. Born in 1991, Kinsey grew up in Smyrna Beach, Florida, where he began playing guitar as a teenager. Also born in 1991, Deaton (a Philadelphia native) was raised in Orlando, Florida, where she studied dance from the age of two. Although they knew each other while in high school, Kinsey and Deaton didn't start performing together until they reconnected while attending the University of Southern Florida. It was there, after discovering they shared both a creative and romantic connection, that they began uploading videos of their cover songs online in 2009. In 2013, they auditioned for and were accepted onto the third season of The X Factor with a slow, sultry reworking of Britney Spears' "Toxic." Fan favorites during their time on the show, Alex & Sierra consistently received a majority of audience votes. After winning The X Factor in December of 2013, they began writing and recording their album, collaborating with such producers as Claude Kelly, Sam Hollander, Steve Mac, and others, including singer/songwriter Jason Mraz. In 2014, they released their debut full-length album, It's About Us, featuring the singles "Scarecrow" and "Just Kids."
About Canine Companions for Independence
Canine Companions for Independence is the largest non-profit provider of assistance dogs and is recognized worldwide for the excellence of its dogs and the quality and longevity of the matches it makes between dogs and people. Canine Companions has been enhancing the lives of people with disabilities with its four types of assistance dogs that master more than 40 specialized commands: service dogs, skilled companions, hearing dogs and facility dogs. For more information, visit http://www.cci.org.
About The Ritz-Carlton, Laguna Niguel
The Ritz-Carlton, Laguna Niguel sits perched atop a seaside bluff with epic views of the Pacific Ocean and more than three miles of sandy beach. The resort continues to redefine the guest experience by creating distinctive, unforgettable, and #EpicMemories that are presented against an extraordinary backdrop. A re-imagined surfside retreat that awakens guests' senses with its unique ocean-front setting and remarkable service heritage, the resort is the premiere destination for travelers who desire a playful approach to true Southern California luxury. The resort offers many extraordinary luxury experiences including Raya, 180blũ, enoSTEAK, Bar Raya, The Market Place, The Ritz-Carlton Spa and Eco-Adventure Center. For more information or reservations call 800-241-3333, the hotel directly at 949-240-2000, a travel professional or visit http://www.ritzcarlton.com/lagunaniguel.