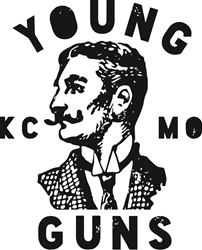 "Here in the Midwest we don't have surf...we crest a different kind of wave. Concrete hills and wind are what propels us and community is what keeps us going." – Founder, Mark Brehm
Kansas City, Missouri (PRWEB) September 01, 2016
Founders, Mark Brehm and JC Franco are excited to announce their new custom longboard company, Young Guns Longboards.
To celebrate, Young Guns, will be having a launch party/pop-up shop September 1st at Cable and Company located in the historic Bauer Building. Located at 115 W 18th St. Kansas City, MO 64108.
Refreshments provided by Torn Label Brewery and Rieger Libations will be served from 5pm-10pm.
"Here in the Midwest we don't have surf...we crest a different kind of wave. Concrete hills and wind are what propels us and community is what keeps us going." – Founder, Mark Brehm
Longboards are slightly longer and faster than traditional skateboards. Used for cruising, the Young Gun longboards are cut, pressed, sanded, painted, and finished by hand.
For more information about Young Guns Longboards please contact Elliot Wiersgalla at 816-527-8047 or visit http://www.yglongboards.com