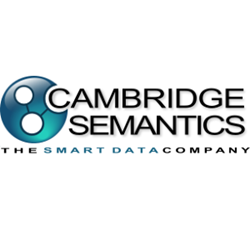 Boston, Mass. (PRWEB) September 01, 2016
Cambridge Semantics, the leading provider of semantic graph-based Smart Data discovery and exploratory analytic solutions, today announced that its Anzo Smart Data Lake platform has been named a KMWorld magazine 'Trend-Setting Product" for 2016.
Designed for enterprise-scale data discovery, analytics and governance, Anzo Smart Data Lake extends beyond the rigid relational data warehouse and unwieldy Hadoop-only data lake, disrupting the way IT and business alike manage and analyze data with unprecedented speed, flexibility and insights.
KMWorld Editor Sandra Haimila said, "Each year we look for software products that break new territory in helping organizations achieve their knowledge management goals. These products are designed, developed and perfectly timed to fill a niche in the marketplace before users are even aware that such functionality and flexibility have been missing. Designated as the KMWorld Trend-Setting Products of 2016, these offerings hold the promise for the marketplace."
Haimila adds, "Our judging panel agrees that such characteristics as usefulness, scalability and level of innovation are among the most valuable components that we consider when we annually select the KMWorld Trend-Setting Products. And the panel believes that timing is key. Too late in the market and competitors already have a foothold. Too early and customers are nowhere to be found."
KMWorld has released its Trend-Setting Products list for nearly two decades, assembling the list through a year-long collaboration with a judging panel consisting of editorial colleagues, market and technology analysts, and customers in a variety of disciplines. Cambridge Semantics' Anzo Smart Data Platform was named to the KMWorld Trend-Setting Products list in 2015.
"We are delighted that KMWorld has recognized one of our smart data products and solutions for a second consecutive year," said Alok Prasad, president of Cambridge Semantics. "We believe the Anzo Smart Data Lake is a true game-changing product that delivers an easily configurable and customizable smart big data solution for user self-service discovery and analytics. The solution is founded on trusted, curated structured and unstructured data from diverse, internal and external sources with end-to-end IT data management and governance."
About KMWorld
KMWorld (http://www.kmworld.com) is the leading information provider serving the Knowledge Management systems market and covers the latest in Content, Document and Knowledge Management, informing more than 30,000 subscribers about the components and processes - and subsequent success stories - that together offer solutions for improving business performance. KMWorld is a publishing unit of Information Today, Inc. (http://www.infotoday.com)
About Cambridge Semantics
Cambridge Semantics (CSI), the Smart Data Company, is an enterprise smart data discovery and exploratory analytics company. It enables customers and partners to rapidly configure and deploy customized Smart Data Lake use cases based on its award-winning Anzo Smart Data Lake ® product.
IT departments and business users gain better understanding and data value through the semantic linking, analysis and management of diverse data whether internal or external, structured or unstructured. The Anzo Smart Data Lake solutions are delivered with increased speed, at big data scale and at a fraction of the implementation costs of using traditional approaches.
The company is based in Boston, Massachusetts.
For more information visit http://www.cambridgesemantics.com or follow us on Facebook, LinkedIn and Twitter: @CamSemantics.