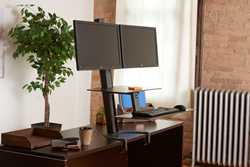 Through its partnership with HealthPostures, Stand Up Desk Direct also aims to improve America's workforce.
Prior Lake MN (PRWEB) November 01, 2016
Stand desk pioneer, HealthPostures, is expanding its sales force. HealthPostures' growing sales force is realized through the addition of Stand Up Desk Direct, a West Coast ergonomics retailer. Stand Up Desk Direct will carry manual, electric and assisted stand desk tabletop and desktop workstations that are built by HealthPostures.
Specific HealthPostures' stand up office desk solutions that customers could purchase direct from Stand Up Desk Direct include the 6300 TaskMate Go, the 6400 TaskMate EZ, the 6200 TaskMate Journey and the 6252 Surface TaskMate. Laptops and monitors sit atop ergonomics solutions like the 6300 TaskMate Go and the 6400 TaskMate EZ. It is with these products that workers can easily transition from sitting to standing, a change in the work environment that is gaining increasing worker, employer and media attention.
Standing workstations offer a healthier lifestyle and increased mobility. These work solutions could potentially see American workers move their bodies more, reducing joint and muscle issues. It is these specific benefits that are a key part of the HealthPostures' mission.
Through its partnership with HealthPostures, Stand Up Desk Direct also aims to improve America's workforce. Toward that end, Stand Up Desk Direct leaders share that, "We have a great team and aim to grow our business more and more, offering our customers the best work environment."
HealthPostures' stand up office desk solutions complement Stand Up Desk Direct's sit and stand desk, convert or add on stands, lift tables and tablet stands. Similar to HealthPostures, the retailer carries products that are electric and manual in design. Simple, sturdy and durable, Stand Up Desk Direct tables, stands and ergonomics sit to stand accessories work well in industrial, manufacturing and office spaces.
Schools, cafeterias, call centers and health centers are other work locations that are compatible with products carried by the retailer. Sales assistance, free shipping and price match are available on all Stand Up Desk Direct products, with free shipping being available for a limited time.
About HealthPostures
Founded in the 1990s, HealthPostures LLC (https://healthpostures.com) has been a leader in the workplace solutions space for more than two decades. The company specializes in the design and manufacturing of workplace solutions like adjustable computer stand for desk, computer monitor stands for desk, sit stand keyboard designs and ergonomic sit stand chairs. Products that HealthPostures develops may help to relieve back and neck pain, headaches and other musculoskeletal disorders. A primary mission of HealthPostures' is to "strive to provide quality products that will help transform your sedentary life so you have a healthy way to work." Sought after ergonomics stand up desk equipment, including popular electric standing desks products, that HealthPostures designs include surface Taskmates, the TaskMate Go Laptop, dual monitor sit stand work stations and Stance move seat extensions. The company's strong reputation and proven products and accessories continue to attract regional and national distributors and resellers.
Contact:
HealthPostures LLC
16801 Industrial Circle
Prior Lake, MN 55372
800-277-1841
https://healthpostures.com
About Stand Up Desk Direct
Stand Up Desk Direct is headquartered in Los Angeles, California. Company office hours are from 9am to 5pm, Pacific Time. Mayline, Lifespan, UPLIFT, Conset and HealthPostures are types of brands that the retailer carries. In addition to offering free shipping on all products for a limited time, the company offers price match. Through price match, if customers find the same product carried by Stand Up Desk Direct at a lower price at another retail store, the customer can get the product through Stand Up Desk Direct at a lower price. Sales assistance is available for all online customers. Stand Up Desk Direct distributes its products direct to customers worldwide via Federal Express, UPS and Priority Mail.
Stand Up Desk Direct
Los Angeles, CA
support(at)standupdeskdirect(dot)com
(843) 256-4381
https://www.standupdeskdirect.com