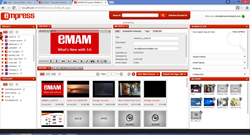 New York, NY (PRWEB) September 08, 2016
Empress Media Asset Management, LLC (Empress) will demo its latest version 3.7 of its flagship eMAM™ platform featuring an integration with ToolsOnAir and Octopus Newsroom at the IBC Convention in Amsterdam, Booth 7.B33, on September 9-13, 2016. eMAM will be showcasing its combined integration with ToolsOnAir and Octopus, using the combined strengths of all three systems to provide a complete end-to-end newsroom workflow.
eMAM is an enterprise level media asset management software system providing a feature-rich online digital library with best-of-breed integrations. These integrations provide a complete workflow process and solutions for its customers. eMAM unites different storages whether they are on premise or in a cloud storage. The eMAM system has the ability to include archive systems, transcoders, different locations, and different workflow systems all into a unified browser interface for web or tablet access. The system has extensive tools and integrations to support collaborative editing, review and approval, publishing, digital delivery, monetization, and archive workflows. COO David Miller said," We are excited to work with our technical partners to provide the eMAM library and integrated workflows to now meet the demanding needs of newsrooms worldwide."
ToolsOnAir is a software based system that integrates ingest, storage, playout, and real time graphics. Its just:news module simplifies workflows, directly integrated into Octopus and other NRCS systems. Other modules power other media workflows, all based on its powerful onCore® architecture. "Having eMAM as a technology partner will allow customers more tools, greater accessibility, and the ability to use content across all storage and archive locations," said Walter Kuntner, CEO of ToolsOnAir.
Octopus Newsroom is an integrated newsroom computer system that connects all the people and processes involved in a newscast. Octopus's integration includes leading systems for playout automation, graphics, traffic, and teleprompters.
Octopus Newsroom system users create a story that will leave a placeholder in the rundown.
The ToolsOnAir just:news system automatically recognizes the place holder and the MOS ID associated with it. Media delivered from eMAM to ToolsOnAir will automatically link into the placeholder and appear in the Octopus rundown. eMAM users can search and browse the entire library for the story. Selected media can be added to the delivery by drag and drop into the delivery widget, or entire projects or categories can be delivered. The delivery can alternatively be automated by a metadata change or another designated event trigger.
About ToolsOnAir Broadcast Engineering GmbH
ToolsOnAir Broadcast Engineering has redefined the TV station of tomorrow, providing powerful Mac and Linux based solutions that integrate storage, ingest, playout and real-time graphics into a streamlined workflow based onCore® - a new revolutionary component architecture for multipurpose broadcast and workflow solutions. onCore® revulotionizes the way how we will develop and adapted software to define solutions for the fast changing media industry.
More than 500 customers around the globe share our vision how to run a tv station cost effective and efficiently now and tomorrow.
Contact
ToolsOnAir Broadcast Engineering GmbH
Zirkusgasse 39
1020 Vienna
Austria
Mattia Varriale
Head of Sales & Marketing
mvarriale(at)toolsonair(dot)com
ABOUT EMPRESS MEDIA ASSET MANAGEMENT: Empress Media Asset Management, LLC is a privately held company providing media asset management and workflow management solutions for broadcast, media, government, and corporate customers worldwide including its eMAM Online, eMAM Vault, eMAM Workgroup, and eMAM Enterprise product lines. It is part of the Empress family of companies, which includes Empress InfoTech, specializing in customized software development, Empress Digital, one of the largest US distributors of blank recording media and supplies, and Real Big Hits, which helps creatives get discovered, distributed, and funded. Empress has offices in New York, Los Angeles, Atlanta, and India, with system integrator resellers worldwide. For more information, please visit http://www.empressmam.com.
Press Contact: Chris Guli / chris(at)empressdigital(dot)com / 212.643.4898