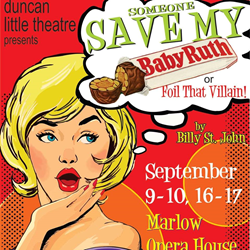 Duncan, OK (PRWEB) September 07, 2016
Duncan Little Theatre's next production and will be on Sept 9-10th and 16th-17th at the Marlow Opera House, located on the northeast corner of intersection N 2nd Street and W Main Street in Marlow, OK. Box office will open at 6:30 pm each night and all performances will be at 7:30 pm.
The melodrama focuses on a small candy shoppe and a man who wants to destroy the business so he can purchase it for his own financial gain. Hilarity ensues with the play constantly breaking the fourth wall and inviting audience participation. Intermission will feature desserts by donation and a silent auction of several celebrity desserts.
Tickets may be purchased at the door. For large group ticket sales, please contact the Duncan Convention & Visitors Bureau at 580-252-2900.