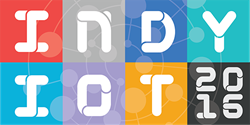 CloudOne is excited to bring together those defining and leveraging IoT in Indiana," said John McDonald, CEO of CloudOne
Fishers, Ind. (PRWEB) September 02, 2016
The second-annual IndyIoT (http://www.indyiot.com) symposium, hosted by CloudOne, will take place Sept. 28, 2016 from 1 - 5 p.m. at Launch Fishers, 12175 Visionary Way in Fishers, Ind. The event will serve as a forum for professionals across all sectors to learn how consumers, businesses and governments are using the IoT ecosystem to create new operating models, bring products to market faster, and develop more efficient processes.
According to a recent survey by Gartner, Inc., the number of organizations adopting IoT will grow 50 percent in 2016, reaching 43 percent of organizations overall. In an effort to highlight how IoT is being put to practice here in Indiana, a wide-range of business leaders will share real-world stories of how they got started with IoT, the trials and tribulations of adoption, and ultimately how IoT has transformed their business. This year's list of speakers includes: Kip Tom, CEO of Tom Farms LLC; Robert Rodenbeck, Director of R&D for Delta Faucet Company; and Scott Humphreys, Commercial Lead for Tyco International to name just a few.
"CloudOne is excited to bring together those defining and leveraging IoT in Indiana. Since we are starting to see a wide-range of uses across virtually all industries, it is important to exchange ideas and learn how IoT can drive business growth," said John McDonald, CEO of CloudOne.
Launch Fishers, an entrepreneurial hub creating the next generation of successes in the city of Fishers, will be the setting for this year's event and Gerry Dick, host of Inside Indian Business, will serve as emcee. Attendee registration is complimentary, but limited, using the promotional code IndyInnovation at indyiot.com. A social hour will immediately follow with beverages provided by Four Day Ray Brewing (must be 21).
IndyIoT is produced and presented by CloudOne and sponsored by Arrow, Elevate Ventures, Indiana Economic Development Corporation (IEDC), Launch Fishers, Mesh Systems, Purdue Foundry, SAS and SIS. Registration for IndyIoT is available at http://www.indyiot.com. View the full list of speakers and keep up to date with the event on Twitter at @IndyIoT #IndyIoT2016.
About IndyIoT
IndyIoT is an afternoon symposium created to connect some of Indiana's most influential business leaders with their peers to see how the state and its enterprises are shaping up in the space. Explore the application, implementation and execution of IoT through real world applications. Witness the future and innovation at IndyIoT. Follow us online at http://www.indyiot.com.
About CloudOne
CloudOne is an IoT Solution Enabler that connects your data across your business. Through a combination of technology & services, our team of experts partners with you to assemble, deploy, manage and advance your ideal Internet of Things solution in a secure, virtual private cloud. For more information, visit http://www.oncloudone.com.