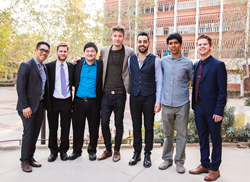 "We are very excited about the new class of students coming from all over the world to participate in this program." Herbie Hancock
Los Angeles, CA (PRWEB) September 01, 2016
Seven extraordinary young jazz musicians from around the world have been selected for the Thelonious Monk Institute of Jazz Performance at UCLA, Class of 2018 and will be entering the program next month.
Each jazz musician will attain a Master of Music in Jazz Performance degree from UCLA Herb Alpert School of Music – one of the nation's top music schools – after completing this intensive, two-year program in spring 2018.
The Class of 2018 includes students from five different countries, confirming the global reach of jazz. The ensemble features pianist Glenn Tucker of Ypsilanti, Michigan; bassist Luca Alemanno of Lecce, Italy; drummer Anthony Fung of Richmond Hill, Canada; alto saxophonist Alexander Hahn of Orange, California; tenor saxophonist Julio Flavio Maza Galvez of Lima, Peru; trombonist Jon Hatamiya of Davis, California; and vibes player Simon Moullier of Paris, France. Each candidate was selected through a rigorous application process culminating in an audition judged by jazz luminaries Herbie Hancock, Wayne Shorter, Jimmy Heath, Kenny Burrell, James Newton and the school's namesake, Herb Alpert. Hancock and Shorter are the program's Distinguished Professors.
Herbie Hancock, who also serves as Chairman of the Thelonious Monk Institute of Jazz, said, "We are very excited about the new class of students coming from all over the world to participate in this program. I look forward to helping these talented musicians develop their collective and individual artistic vision."
Launched in September 1995, the Thelonious Monk Institute of Jazz Performance accepts one ensemble of musicians for each class. All students receive full scholarships, as well as stipends to cover their monthly living expenses. This enables students to be fully immersed in their education and development as artists.
Many world-renowned jazz masters serve as Artists-in-Residence one week out of every month, teaching and performing with the students. Artists-in-Residence have included Terence Blanchard, Dee Dee Bridgewater, Ron Carter, Jack DeJohnette, Barry Harris, Roy Haynes, Jimmy Heath, Dave Holland, Wynton Marsalis, Jason Moran, Lewis Nash, Danilo Pérez, Dianne Reeves and John Scofield, among others.
The aspiring musicians study both individually and as a small group, receiving personal mentoring, ensemble coaching, and lectures on the jazz tradition. They are also encouraged to experiment in expanding jazz in new directions through their compositions and performances. Under the mentorship of their acclaimed instructors, the college students, collectively known as the Thelonious Monk Institute Ensemble at UCLA, present concerts and lead jazz education and community outreach programs in Los Angeles, across the United States and around the world. The students recently performed at the White House for International Jazz Day 2016, and have participated in tours of Argentina, China, Egypt, India, Morocco, Chile, Peru, Russia and Vietnam with Herbie Hancock, Wayne Shorter, and Dee Bridgewater.
Thelonious Monk Institute of Jazz Performance alumni – including Ambrose Akinmusire, Lionel Loueke, Gretchen Parlato, Walter Smith III, Dayna Stephens and Helen Sung, along with many others – have continued on to major careers as performing and recording artists, touring the world with legendary jazz musicians and as leaders of their own groups.
Institute President Tom Carter noted, "Thelonious Monk Institute of Jazz Performance alumni have become some of the most influential musicians in jazz. The Institute is pleased to continue developing the next generation of jazz artists by ensuring that students receive life-changing mentoring experiences with jazz masters."
UCLA Herb Alpert School of Music Interim Dean Judith Smith said, "The Thelonious Monk Institute of Jazz Performance at UCLA is a magnet for talent, both in terms of our exceptional graduate students and our world-class jazz faculty. By providing each student with a full academic scholarship, we are able to create the time and space they need to invest in their talent, and we believe this is a sound investment in the future of jazz."
Thelonious Monk Institute of Jazz Performance at UCLA – Class of 2018
Luca Alemanno, bass, was born in Lecce, Italy. He began playing the electric bass as a teenager and earned a degree in jazz electric bass from Conservatorio Statale di Musica Guiseppe Martucci and a double bass degree from Conservatorio di Musica "Tito Schipa" Lecce. At 21, he won the European electric bass competition EuroBass Day held in Verona, Italy. Alemanno has appeared on more than 20 jazz albums and has performed in jazz clubs and festivals around the world including the London Jazz Festival, Rome Jazz Festival, North Sea Jazz Festival, Blue Note Tokyo and Ronnie Scott's. He has appeared with artists including Dee Dee Bridgewater, Joe Lovano, Stanley Jordan and Maria Schneider.
Anthony Fung, drums, was born in Richmond Hill, Canada, and has been playing the drums since age 10. Fung is a graduate of the Berklee College of Music, where he received a bachelor's degree in jazz performance and a master's degree in contemporary music from Berklee's Global Jazz Institute. He has studied with a wide variety of artists including Danilo Perez, John Patitucci, Joe Lovano, Terri Lyne Carrington, Hal Crook and George Garzone. Fung performs with his own quintet and has appeared at the Panama Jazz Festival, Kriol Jazz Festival, Toronto and Montreal Jazz Festivals, Scullers Jazz Club, and Jazz at Lincoln Center.
Julio Flavio Maza Galvez, tenor saxophone, was born in Lima, Peru, and began playing the saxophone at age 12. He was an honors student at Universidad Peruana de Ciencias Aplicadas, where he earned his bachelor's degree in music. Galvez has studied with Ania Paz, Karlhos Misajel and Edelmira Chavez. He placed in the national Peruvian composition contest "Canteras," and has participated in the Stanford Jazz Workshop. Galvez has toured throughout Latin America, lending his talents to music groups in multiple genres including popular dance music, ska, reggae and big band. He is a private instructor teaching flute, piano, saxophone and theory.
Alexander Hahn, alto saxophone, was born in Orange, California, and began playing saxophone at age 10. He earned his undergraduate degree in jazz studies from the University of North Texas and his master's degree in jazz studies from the University of Southern California. In 2014, he released his debut album Alex Hahn Crossing, a fusion of jazz and pop music, and recorded with Michael Bublé. Hahn has received several honors including a DownBeat student music award, the 2015 Perform with Mintzer Award, and an Outstanding Soloist Award from the 2015 Next Generation Monterey Jazz Festival. He has performed at numerous music festivals, recorded several commercials and worked on episodes of the television show "Glee."
Jon Hatamiya, trombone, grew up in Davis, California, and began playing the trombone at age 10. He studied jazz performance at the Manhattan School of Music and earned his master's degree in jazz studies at the University of Southern California. Hatamiya was featured in Jet Magazine in 2011 as the only trombonist on Wynton Marsalis' list of "Who's Got Next." A 2015 ASCAP Herb Alpert Young Jazz Composers Award winner, he has toured nationally, appeared at the Davis Music Festival, and performed with the Jazz at Lincoln Center Orchestra. Jon Hatamiya and Friends, his nine-piece fusion project, has headlined at the Blue Whale and the California Jazz Conservatory.
Simon Moullier, vibraphone, of Paris, France, has studied classical percussion since age 6. By age 12, he was studying jazz drums, and at 17 he began playing the vibraphone. Moullier studied at the Berklee College of Music, where he received his bachelor's degree in jazz performance. He has studied privately with Danilo Perez, John Patitucci, Terri Lyne Carrington, Joe Lovano and Dave Liebman, among others. Moullier has performed at jazz clubs and festivals in New York, Boston, Indonesia, Spain, Panama, France and Sweden. A versatile multi-instrumentalist, he also plays keyboards, balafon and drums.
Glenn Tucker, piano, was born in Ypsilanti, Michigan, and began playing piano at age 11. He earned his bachelor of fine arts degree in jazz studies and his master's degree in organ performance from the University of Michigan. Tucker has performed with the Detroit Symphony Orchestra and has played on numerous albums including his debut album Determination, which was released in 2015. He has performed as both a leader and sideman in a wide range of jazz styles. Tucker's stature as a pianist and Hammond organist is steadily rising on the Detroit scene, and he occasionally tours with R&B great Michael Henderson.
ABOUT THE THELONIOUS MONK INSTITUTE OF JAZZ
The Thelonious Monk Institute of Jazz is a nonprofit education organization established in 1986. Its mission is to offer the world's most promising young musicians college level training by internationally acclaimed jazz masters and to present school-based music education programs for young people around the world. The Institute preserves, perpetuates and expands jazz as a global art form, and utilizes jazz as a means to unite people of all ages, backgrounds and nationalities. All of the Institute's programs are provided free of charge to students, schools and communities worldwide. The Institute's programs help fill a tremendous void in arts education left by budget cuts in public school funding, and use jazz as the medium to encourage imaginative thinking, creativity, a positive self-image, and respect for one's own and others' cultural heritage. http://www.monkinstitute.org.
ABOUT THE HERB ALPERT SCHOOL OF MUSIC AT UCLA
In January 2016, the University of California Board of Regents formally established the Herb Alpert School of Music as UCLA's 12th professional school and the first music school in the University of California system. Created in 2007 with a $30 million gift from the Herb Alpert Foundation, the school sets a new standard for 21st century music schools by balancing performance and scholarship, and by embracing classical western music, world music and jazz, and popular contemporary music. With more than 450 undergraduate and graduate students, the school offers bachelor's, master's and doctoral degree programs through three highly rated academic departments, each with internationally acclaimed faculty. The music department competes for students with the nation's top music schools. It provides intensive individual studio instruction, thorough theoretical training and full participation in large and small ensembles. The ethnomusicology department is the largest program in ethnomusicology worldwide and embraces the scholarly study and performance traditions of music representing various cultures of the world; it also administers the program in jazz studies. The musicology department boasts cutting-edge cultural theorists and music thinkers who specialize in traditional subjects of European and American music, as well as more recent subjects such as rock and film music. http://www.schoolofmusic.ucla.edu.