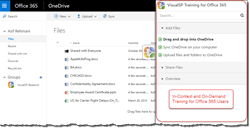 As with our SharePoint enterprise training solution, we found that there was a need to provide task guidance to users within the Office 365 interface
Chicago, IL (PRWEB) September 07, 2016
Frustrated Office 365 users will get some much needed help when VisualSP reveals its latest user training solution–VisualSP Training for Office 365–at Microsoft Ignite, September 26-30 in Atlanta, Georgia. Excitement has been building for this breakthrough solution since the concept was first conceived several years ago.
The Training for Office 365 product breaks new ground for VisualSP, which has been a leader in training videos and Just-in-Time Learning® solutions. "As with our SharePoint enterprise training solution, we found that there was a need to provide task guidance to users within the Office 365 interface," said VisualSP CEO Asif Rehmani.
The in-context solution displays a pop-out Training Tab at the edge of the user's screen. Once clicked, the Tab expands to an interactive menu of multimedia, micro-training module options. Users can learn tasks via

Short Video Tutorials
Reference Tip Sheets
Annotated Screenshots
Step-by-step in-app walkthroughs
Articles on specific Office 365 topics
"Office 365 is a great suite of applications for all sized businesses around the world, "said Rehmani, "but the current built-in help provided by Microsoft relies on the end user searching volumes of potential help topics to find the answer. Another option is for them to Google for an answer. This creates a lot of wasted time for users at work, school or at home. We're looking to shrink the amount of wasted time, so they can get their work done faster while learning the Office 365 suite."
The training content has been produced and curated from Microsoft MVPs, MCTs, Authors and other experts, who understand the needs and challenges of Office 365 end users.
"We're extremely excited about our latest solution," said Chief Revenue Officer Mark McDermott. "VisualSP has expanded the company's mission to provide help within the context of the user interface. Our VisualSP Help System for SharePoint has over one million users now able to learn SharePoint without leaving their work screen. We want the same for users of all the Office 365 products."
The Office 365 training solution is expected to be ready for public beta testing in October 2016. Interested parties can see the product in action at booth #464 in the exhibitor hall at Microsoft Ignite. For more information about the VisualSP Training for Office 365 solution, click here.
*****
VisualSP® has been a leader in Elearning/performance support integration with SharePoint since 2004. Formerly SharePoint-Videos.com, a developer and distributor of SharePoint training videos, VisualSP introduced its on-demand, inline Help System for SharePoint to assist end users in developing mastery over common SharePoint tasks. The company is led by Microsoft MVP and MCT Asif Rehmani. To learn more, visit http://www.visualsp.com.