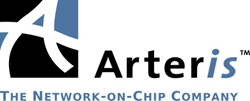 CAMPBELL, Calif (PRWEB) September 06, 2016
Arteris Inc., the innovative supplier of silicon-proven commercial system-on-chip (SoC) interconnect IP, today announced that Octasic Inc., has licensed Arteris FlexNoC interconnect IP for use in highly specialized systems-on-chip in tactical and industrial applications.
The Octasic development team chose Arteris FlexNoC interconnect IP because it allowed them to easily increase the scalability of their SoC architecture while avoiding performance bottlenecks and wire routing congestion issues.
"The number of cores and peripherals in our new SoC products and their associated requirements for massive and predictable data bandwidth made the on-chip interconnect a key design challenge in our project," said Doug Morrissey, vice president and chief technology officer at Octasic. "The Arteris FlexNoC interconnect IP has proven that it can reduce wire routing congestion while guaranteeing the bandwidth and latency of critical traffic in our design with minimal effort on our part."
"We are excited to help the Octasic team scale their SoC complexity while being able to meet stringent performance requirements," said K. Charles Janac, President and CEO of Arteris. "This is further proof that Arteris NoC technology is the best solution for design teams that want to create more complex SoCs while avoiding the wire routing congestion, timing closure and performance issues that occur when using inferior interconnect technologies."
About Octasic
Octasic Inc. is a leading provider of SoCs, software, and integrated hardware/software platforms for the worldwide mobile wireless and media processing markets. Our hardware/software platforms are full-featured systems that allow developers to reduce costs, de-risk their projects, accelerate time to market, and focus engineering resources on their specific areas of expertise. The company's high-quality solutions are based on Opus, a power-efficient asynchronous DSP architecture. Founded in 1998, Octasic is a private company in Montreal, Canada, and a worldwide sales support network. For more information, please visit http://www.octasic.com.
About Arteris
Arteris, Inc. provides system-on-chip (SoC) interconnect IP and tools to accelerate SoC semiconductor assembly for a wide range of applications. Rapid semiconductor designer adoption by customers such as Samsung, Huawei / HiSilicon, Mobileye, Altera, and Texas Instruments has resulted in Arteris being the only semiconductor IP company to be ranked in the Inc. 500 and Deloitte Technology Fast 500 lists in 2012 and 2013.
Customer results obtained by using the Arteris product line include lower power, higher performance, more efficient design reuse and faster SoC development, leading to lower development and production costs. More information can be found at http://www.arteris.com.
Arteris, FlexNoC and the Arteris logo are trademarks of Arteris. All other product or service names are the property of their respective owners.
###