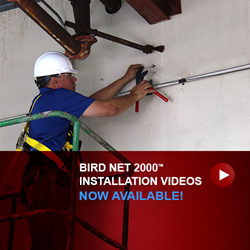 From opening the net to installing a zipper, all you need to know about bird netting installations.
Irvine, CA (PRWEB) September 05, 2016
Designed to simplify the installation of it premium bird netting products, Bird B Gone has two new videos for installers and customers.
The informative videos provide step-by-step instructions on how to properly install Bird B Gone bird netting. Instructions are provided that detail what to do before the installation, e.g., what tools and equipment are needed on hand, as well as how to perform a site survey for evaluating the site.
The videos detail the tools and procedures required to install the anchors that hold the netting in place. Both corner and intermediate anchors are discussed, detailing how and where they are used to secure the netting onto wood, concrete, steel and other surfaces. Also addressed are procedures for running the cables or straining wire that support the netting, where to use galvanized and stainless steel wire, which thickness is recommended for a specific netting installation, and how to uses ferrules to secure the wires. The how and why of turnbuckles is also covered to ensure the support wires remain tight.
How to open up the netting for installation is covered, as well as how to initially stretch and orient the netting by following color coded tags. Procedures for hog ringing the netting (tying the netting to the cable and turnbuckles) are shown to ensure the netting remains tight and sag free. Both pneumatic and hand powered hog ringing tools are indicated. Finally, the video details how to install the netting around lighting and plumbing fixtures, and how to install easy access zippers in the netting.
Bird B Gone bird netting provides a physical barrier to block birds out of many key areas of a building or structure. It can keep birds from roosting and nesting in nooks and crannies where their presence often creates costly problems. Birds can be very clever and resourceful when it comes to penetrating nets. The key to the effectiveness of any netting installation is to keep the netting from sagging or drooping, and to avoid leaving gaps that birds can work their way through.
Bird B Gone is the world's largest manufacturer and distributor of bird control products, providing effective and humane solutions to a bird-free environment. The company provides advice; training and installation services for those who need help with these and other bird control measures. For the complete line of products from Bird B Gone, call 1-800-392-6915; fax: 949-472-3116 or visit our website at http://www.birdbgone.com, e-mail: nobirds(at)birdbgone(dot)com.