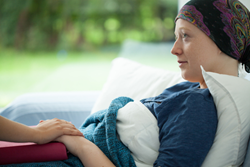 I will not breach current government HIPAA regulations that restrict doctors from giving out patient information without their specific consent. The DPBH clearly is overstepping their level of authority.
Las Vegas, Nevada (PRWEB) September 06, 2016
One of the most sacred bonds is the relationship between a patient and their doctor. As medical professionals, doctors are privy to many secrets and conditions that patients may disclose to them but choose to withhold from family and friends. This is especially true if the patient is battling a fierce disease, such as cancer. In fact, a dispute is now brewing between doctors and the state of Nevada over the issue of cancer and data collection. Everyone agrees that cancer is an extremely serious issue. The National Cancer Institute estimates that 1,685,210 new cases of cancer will be diagnosed within the United States for 2016. (1) Overall, the American Cancer Society reports than an estimated 595,690 people in 2016 will die from cancer within the United States, which translates into roughly 1630 people dying every day. (2) Such statistics have led the federal and state governments to strive hard to fight against cancer, and one major tool in their employ is the collection of data. Scientists, researchers, and doctors can use collected data to identify trends and study the effects of both various causes and treatments. However, the reach of such data collection has undergone some scrutiny as many medical professionals bring up concerns of individual privacy and the confidentiality of the doctor/patient relationship.
In the past, the Nevada Division of Public and Behavioral Health (DPBH) required the lab companies that run the pathology tests for cancer diagnoses to report their results for inclusion into the Nevada Central Cancer Registry. The information included in such reports were the patient's age, ethnicity, and gender (if known). However, the new requirements for reporting to the Nevada Central Cancer Registry go a great deal further. Doctors, not just the labs, are now required to report an occurrence of neoplasm and do so within 30 days. According to Rueckl, many medical professionals are objecting to the new guidelines set out by the DPBH. One objection is that only two doctors were on hand when the new guidelines were brought up and voted on, meaning that the voices of the actual medical personnel who will implement the new guidelines were underrepresented. Another point of contention is that the new policies were concerned originally with reporting a "malignant neoplasm" but which was changed to the far more encompassing "neoplasm." This change in wording vastly increases the amount of paperwork to be filled out. The term "neoplasm" by definition means "new skin lesion." Technically, anything in a dermatologist's office would fall under this category, as anything removed would be a "new skin lesion" including benign moles, skin tags, milia, abscesses, pre-cancerous growths, and of course, malignant neoplasms, to name just a few. Dr. James. Q. Del Rosso of Lakes Dermatology states, "Making the basic term 'neoplasm' concerns me because everything taken off in a dermatologist office is technically a 'neoplasm.' That opens up a larger group that we are reporting on and more patient information being disclosed. Now all of a sudden, it's not just about cancer." (3) Doctors point out that labs already report their findings to the DPBH and that requiring doctors and medical clinics to do the same just duplicates the paperwork already being submitted. The date for reporting is also vague as the guidelines discuss both diagnosis and treatment. This ambiguity with a filing date is associated with the staggering $5,000 fine for each case not submitted to the Nevada Central Cancer Registry. The objecting physicians point out that the Nevada Division of Public and Behavioral Health does not license doctors and thus has no power to fine them.
A huge bone of contention with the new reporting guidelines to the Nevada Central Cancer Registry concerns the right of privacy on behalf of patients. The data that used to be submitted only featured age, gender (if known), and ethnicity. Doctors now have to report the following invasive patient information with each submission: name, age, address, social security number, occupation, primary insurance payer, family cancer history, marital status, birthplace, and more. Dr. James Q. Del Rosso of Lakes Dermatology is concerned about patient privacy, stating, "Statistical information gathering is vital to patient care and trending, but I don't know what providing information that identifies the patient including a social security number has to do with statistics." (4) Patients do not have the right to opt out of having this personal information being taken and given to the state of Nevada. Even worse, patients are not even informed of this data being collected and submitted in the first place. Dr. F. Victor Rueckl of Lakes Dermatology in Las Vegas adds, "I believe that trust in the doctor/patient relationship is one of the most important aspects of medicine. It concerns me that I don't need to tell my patients that I have to disclose all of this personal information about them to the State." (5) Not only is the doctor/patient relationship being destroyed by these new guidelines, but the electronic submission of such data also leaves patients vulnerable to criminal acts, such as identity theft, if such records are hacked. The Insurance Information Institute reported that there were 781 data breaches in 2015 that affected a total of 169 million exposed records. Of that count, a full 66.7% of the breaches were those of medical and healthcare organizations. (6) Most doctors do not take their patients' social security numbers for this very reason, but now the DPBH is requiring this information that will be electronically transmitted and vulnerable to being hacked. Many doctors are of the opinion that the new guidelines are being implemented due to the state's desire for data mining and not for the purpose of collecting information that is relevant to cancer reporting, vital statistics, and the effectiveness of medical treatments. Dr. James. Q. Del Rosso of Lakes Dermatology adds an important note about HIPAA concerns, stating, "I will not breach current government HIPAA regulations that restrict doctors from giving out patient information without their specific consent. The DPBH clearly is overstepping their level of authority." (7)
The collection of data for cancer research is important, which is a fact that nobody disputes. It is through the arduous collection of data that important trends, potential linkages, and treatment effectiveness can be monitored. Every researcher, no matter their scientific discipline, uses raw data as the foundation for their work. Data collection for cancer has shown that there has been a 23% decline in the cancer death rate since 1991. Dr. F. Victor Rueckl of Lakes Dermatology adds, "I can tell you that people are getting skin checks more regularly and at younger ages, so the cancers I see most of the time are less intrusive. I think a large part of this has to do with statistical reporting and a focus on prevention. The Cancer Registry definitely helps in promoting those numbers to the public and educating the population. For that, I am grateful, but I want to make sure that's what continues to happen and that it remains their purpose." (8) Statistics also show that while deaths are diminishing overall, the death rates for cancers of the liver, pancreas, and uterine corpus are actually increasing. (9) According to the DPBH, "The primary purpose of the Nevada Central Cancer Registry (NCCR) is to collect and maintain a record of reportable cases of cancer in the state. The data is used to evaluate the appropriateness of measures for the prevention and control of cancer and to conduct comprehensive epidemiological surveys of cancer and cancer-related deaths.... NCCR is a vital tool for monitoring the incidence of cancer within the state and sharing that information with health care professionals, researchers, and the general public." (10) However, the new regulations by the DPBH for the Nevada Central Cancer Registry are causing an uproar from medical professionals. Dr. F. Victor Rueckl of Lakes Dermatology states, "I have some serious concerns that people will be less preventative-focused if we tell them that every 'neoplasm' that they come into the office for needs to be disclosed to the State." (11)
According to Rueckl, "It seems there are serious concerns from the medical community about their roles in the proposed plan and the effect it will not only have on their current patient relationships, but also those potential future patients." At the forefront of discussions is Dr. Douglas Fife of Surgical Dermatology & Laser Center in Las Vegas, who founded a group for dermatologists in Southern Nevada to get together monthly to discuss the profession and things affecting patient care, such as this proposal. Dr. Douglas Fife has led the effort to bring focus to this situation and represent the best interests of the patients. He notes, "Since I founded the Dermatology Society in Las Vegas, one of the most important aspects to me was communicating with my colleagues. I've gotten more emails and backlash about this proposed plan than anything else since I founded the group several years ago. My fellow doctors are concerned with why we are providing this information, what purpose it will serve, and frankly, how to get this to work in each office. Many offices run very lean and don't have a person to basically dedicate to this job. We want to provide smart patient care, and it seems this proposed plan may hinder that." (12)
As one can see, licensed medical doctors have no issue with submitting basic information to the Nevada Central Cancer Registry to compile vital statistics and track ongoing trends. They do object to the new guidelines that they feel are incredibly invasive and detrimental to the doctor/patient relationship. Doctors feel that the new submission guidelines are cumbersome, invasive, and eat up valuable office resources. Such draconian new guidelines seem to offer no tangible benefits to the ongoing fight against cancer. Instead, when patients realize that their own personal doctors are submitting confidential information without their prior consent or knowledge, they may begin to lessen their frequency of visiting their doctor or cease to confide in them altogether. The end result is poorer medical care, not better.
References:
1) http://www.cancer.gov/about-cancer/understanding/statistics
2) http://www.cancer.org/acs/groups/content/@research/documents/document/acspc-047079.pdf
3) Quote from Dr. James Q. Del Rosso, dermatologist at Lakes Dermatology
4) Quote from Dr. James Q. Del Rosso, dermatologist at Lakes Dermatology
5) Quote from Dr. F. Victor Rueckl, dermatologist at Lakes Dermatology
6) http://www.iii.org/fact-statistic/identity-theft-and-cybercrime
7) Quote from Dr. James Q. Del Rosso, dermatologist at Lakes Dermatology
8) Quote from Dr. F. Victor Rueckl, dermatologist at Lakes Dermatology
9) http://www.ncbi.nlm.nih.gov/pubmed/26742998
10) http://dpbh.nv.gov/Programs/NCCR/Nevada_Central_Cancer_Registry_(NCCR)_-Home/
11) Quote from Dr. F. Victor Rueckl, dermatologist at Lakes Dermatology
12) Quote from Dr. Douglas Fife, dermatologist at Surgical Dermatology & Laser Center