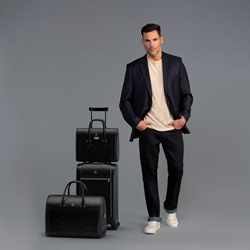 "I created sportswear that reflects Silicon Valley's signature casual dress, yet stands apart in the quality and elegant detailing found in luxury brands." - Nazym Paltachev, CEO of Soul of Nomad, Inc.
San Francisco, CA (PRWEB) September 07, 2016
Soul of Nomad is the newest fashion pioneer to emerge from Silicon Valley, distinguishing itself from traditional Valley businesses by offering an elegant menswear collection. The brand features denim, sportswear, eyewear, luggage and fine leather accessories, the essentials designed for the discerning man with a modern nomadic spirit.
Soul Of Nomad is the realized dream of founder, Nazym Paltachev, an entrepreneur and investor who grew up in St. Petersburg, Russia and the United States. Paltachev's inspiration came during his frequent departures from San Francisco International Airport (SFO) to Europe and Asia, where he observed professionals who seemed to be struggling to look sharp after a long flight.
"I wanted to create a versatile wardrobe with key pieces streamlined for frequent travel. I created sportswear that reflects Silicon Valley's signature casual dress, yet stands apart in the quality and elegant detailing found in luxury brands," said Paltachev. "Our customers are bold, daring, virtuous, confident, and adventurous. There is a spirit within, a drive to move forward, and to connect the past to the future."
The result is a collection that is sophisticated, yet accessible, designed for the man who travels regularly and appreciates fine craftsmanship, comfort, and personal luxury.
Soul of Nomad's collection is conceptualized and crafted by a small team of innovative product engineers and fashion industry veterans whose combined expertise adds up to more than 100 years of work experience. Together, they merge technology and design, resulting in modernity-driven menswear and functional accessories that are made with the latest fabrics and materials the industry has to offer. The outcome is a collection that is durable, lightweight, and practical. Soul of Nomad is created exclusively in the United States and Italy, with raw materials sourced from ethical, fair-trade suppliers around the world.
Soul of Nomad's denim collection is made of premium-grade stretch denim fabrics (created to support personal fit and limit over-stretch) and is sourced from mills in Europe and Japan. The detailing of their denim, as well as the luggage and leather accessories, includes Italian rose gold rivets and zippers. The luggage series is created using high-grade aluminum, carbon fiber, and the finest leather from Italy and France.
The conceptual design of Soul of Nomad's freestanding retail boutiques is masculine and intimate. Each boutique will be approximately 1,000 square feet with furnishings such as marble floors, premium woods, and replica airplane turbine fans.
Paltachev states, "I want each customer to experience an elegant space, as well as the ease of shopping a carefully curated selection of merchandise with expert assistance available when desired."
Soul of Nomad's e-commerce and freestanding boutiques will offer private membership for distinguished clientele including, access to limited editions and exclusive pre-orders. For example, members may select from collectible editions that might include 300 pairs of one-of-a-kind jeans with 14-karat gold rivets and buttons. Another unique service is a local concierge with access to performances, restaurant reservations, and other special amenities.
Soul of Nomad's first phase retail launch honors the mobile culture and indispensable wardrobe item sported by Silicon Valley's entrepreneurs, venture capitalists and innovators - a perfect pair of jeans. The manner of their first phase launch also reflects the brand's focus on customer service and private membership, releasing the denim collection to a close inner circle of customers before expanding their sales this fall. The luggage series release will follow, along with the additional product categories and retail locations in San Francisco, New York, and Los Angeles.