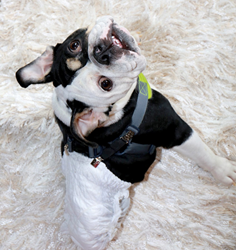 Bonsai's life was not in vain ~ his brilliant spirit will shine on in all of us. We'll see you again my prince ~ healthy and whole... we love you endlessly
Fort Worth, Texas (PRWEB) September 04, 2016
Bonsai - Half A Bulldog, Twice The Love - has died.
The little Bulldog was born to an Arkansas breeder back in April of 2015 with just half of his spine, no functional pelvis and tiny contracted rear limbs which had to be amputated. He suffered from a rare human condition called Sacral Agenesis and was surrendered to a private rescue at 3 weeks of age.
Bonsai quickly became an internet sensation, stealing the hearts of thousands as he grew and gained the support of friends and followers worldwide.
With his spirited antics, Bonsai kept his fans smiling and wildly excited for his regular interaction on Facebook and Instagram through photos, narrations and videos.
While serving as the official mascot to iSACRA - the human organization benefiting those afflicted with this rare condition - as well as bringing to light, the ongoing needs and pleas of the major medical / critical care rescue home who cared for him - Bonsai brought awareness, joy, silliness and inspiration to the world each and every moment of his 16 months of life.
In the words of one Facebook follower, "He was such a source of, not only comic relief in a world that has become all too intolerable for anyone with differences - but a true inspiration, that those differences should not limit us."
Elizabeth Hart, Bonsai's rescuer, personal caregiver and founder of Friends Of Emma - says in a Facebook post, "Though we've always been aware that Bonsai may not live a long life due to his rare combined conditions - he hadn't been sick... there was no warning - and we are still shocked at the sudden happenings."
Ultimately Bonsai suffered what is believed to have been a lethal cardiac incident in his sleep.
In the announcement post on Bonsai's Facebook page, his rescuer states, "We will get through the days - the long nights - carry on as is needed for the little ones in our care - and those who continue to find their way to us..... because that's what we do."
Friends Of Emma is a Texas based private rescue home caring for major medical, critical care and hospice animals from around the world. If you would like to make a donation in Bonsai's honor to help them continue vital medical rescue efforts, you may do so via Bonsai's personal fundraiser page.
If you would like to purchase a remembrance item, you may order a plush replica of Bonsai while products are available - with 100% of the proceeds directly benefiting the major medical, critical care and sanctuary rescue residents of Friends Of Emma.
Hart continues, "Bonsai's life was not in vain ~ his brilliant spirit will shine on in all of us... We'll see you again my prince ~ healthy and whole.......... we love you endlessly."