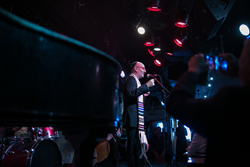 "The purity of Yom Kippur is reflected in the music. Our sounds are arranged to take congregants on a spiritual journey to elevate faith."
New York, NY (PRWEB) September 21, 2016
On Wednesday October 12th the Day of Atonement, Sim Shalom founder Rabbi Cantor Steven Blane who is also a recording singer-songwriter will lead a jazz quartet and individuals hungry for creative religious fulfillment. The improvisational sounds of rhythmic jazz and traditional Jewish liturgy will allow affiliated and unaffiliated Jews a creative vehicle to cleanse the soul. The service will begin at 10:30 am at the Bitter End in New York City. For those not able to attend live, the service will be streamed with worldwide participation via live chat. The jazz quartet will feature Jack Glottman on piano, Carol Sudhalter on sax and flute, Frank Levitano on drums, and Kevin Hailey on bass. For more information and to see a video of last year's service click here.
Yom Kippur the most important Jewish holiday of the year, marks the last day of the 10 Days of Awe. It is a a time of repentance and reflection to begin anew: to be inscribed into the Book of Life. According to Rabbi Blane, "The purity of Yom Kippur is reflected in the music. Our sounds are arranged to take congregants on a spiritual journey to elevate faith." The Yom Kippur service will last approximately two hours, and include Yizkor for congregants wishing to honor a departed loved one.
Sim Shalom has offered a jazz High Holiday program to full house of congregants in New York City for the last five years. This year Rabbi Blane will introduce his new original song, "I Confess" which is part of his recently recorded album of inspirational Songs.
For those who will be in New York City, tickets are available for purchase for the live service which will be at the legendary Bitter End in Greenwich Village. Tickets which must be purchased in advance help defray the program cost. As all Sim Shalom online services, the services will be streamed live with worldwide participation via chat at no cost. Individuals can simply click on SimShalom.com at 10:30 am EST on October 12.
Following the days observance a Neelah Service will be held which will begin at 4:30 pm on the Upper West Side. Bagels and juice will be served to break the fast. To purchase tickets for the live service at the Bitter End, Neelah on the Upper West Side, or join the service free online, or for more information visit Sim Shalom's website or call 201-338-0165.
About Sim Shalom and JSLI
Sim Shalom is an interactive online Jewish Universalist synagogue that is liberal in thought and traditional in liturgy. Created in 2009 by Rabbi Steven Blane on Manhattan's Upper West Side, Sim Shalom offers a means of connecting the unconnected. Rabbi Blane leads accessible and short Kabbalat Shabbat services every Friday night using a virtual interface and additionally Sim Shalom provides online education programs, Jazz concerts, conversion and life-cycle ceremonies along with weeknight services at 7:00PM EST led by Rabbis and students of this online community.
Rabbi Blane is also the founder and director of the Jewish Spiritual Leader's Institute, the online professional rabbinical program.
Sim Shalom, a non profit 501 (c ) (3) tax-exempt organization, nurtures a Jewish connection through its mission of innovative services, creative education and dynamic outreach to the global community