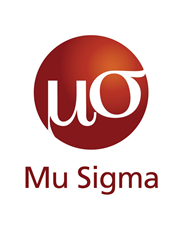 Las Vegas, NV (PRWEB) September 06, 2016
WHAT:
As the telecommunications industry continues to rely on big data to drive business decisions and monetization, establishing an efficient analytics teams will become critical. Tom Pohlmann, head of values and strategy at Mu Sigma, a leading global provider of decision science and big data analytics solutions, will lead a discussion at Telco Data Analytics USA on how to create a first-class data analytics team that can turn insights into action. Pohlmann will also provide practical advice on how to attract and recruit the right talent.
WHEN & WHERE:
Panel Discussion: Creating a First-Class Data Analytics Team at Telco Data Analytics USA
Wednesday, September 7, 2016, 11:30 a.m. – 12 p.m. PT 
Sands Expo Convention Center
201 Sands Avenue, Las Vegas, NV 89169
More information: https://tmt.knect365.com/telco-data-analytics-usa/
WHO:
Tom Pohlmann is the head of values and strategy at Mu Sigma, a leading global provider of decision science and big data analytics solutions. In this role, he leads the company's global brand and communications strategy, manages a portfolio of new client accounts and oversees the development of programs that continuously align the company's work with its values and vision. Recognized as an innovator and creative thought leader in the industry, Tom has more than 25 years of experience in strategy and product development, messaging and branding, profits and loss accountability, mergers and acquisition, customer insights and analytics, publishing and public speaking.
Before joining Mu Sigma in 2014, Tom spent 14 years at Forrester Research in a variety of senior research and marketing roles. Most recently, he served as the chief strategy and marketing officer and was responsible for creating, communicating and sustaining corporate strategy, including oversight of mergers and acquisitions and major change management initiatives. He has also held consulting and management roles at Teradata, PricewaterhouseCoopers and Andersen Consulting (currently Accenture).
About Mu Sigma:
Mu Sigma is a global leader in decision science and big data analytics, enabling clients to solve high-impact business problems across marketing, risk and supply chain, while also helping them systematize and scale a new approach to decision-making. Supported by more than 3,500 decision scientists, Mu Sigma operates at the intersection of people, process and platforms to help clients solve the hidden problems in their organizations and create value for their shareholders. Mu Sigma's "Art of Problem Solving" system blends aspects of design thinking and machine learning to unite the algorithmic with the heuristic to inform better decision making. Founded in 2004, Mu Sigma serves Fortune 500 clients across multiple industries. For more information, visit http://www.mu-sigma.com and follow on Twitter @MuSigmaInc.
CONTACT:
Amanda Corey
Gabriel Marketing Group (for Mu Sigma)
amandac(at)gabrielmarketing(dot)com
Tel: 202-494-0098