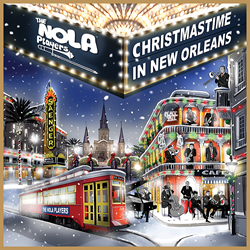 New York, NY (PRWEB) September 06, 2016
With the news cycle revealing a difficult year for the state of Louisiana, as the fall sets in and the holiday season approaches, a more heart-warming narrative takes center stage with Christmastime in New Orleans. Capturing the festive spirit and traditions of New Orleans, this new project aims to maintain the traditions of some of the city's great artists such as Louis Armstrong, Dr. John and Harry Connick Jr. The album features some of The Big Easy's finest jazz musicians in beautiful, custom instrumental arrangements of holiday favorites, providing a freshly swinging soundtrack for the holiday. The PBS Special, "Christmastime In New Orleans," will air throughout the fall and holiday season on various stations throughout the country, with Louisiana Public Broadcasting and airing a sneak peek of the show on September 7. Additional airdates will follow, including special October preview broadcasts with WYES in New Orleans.
The sleek yet effervescent sound of Christmastime in New Orleans comes via the 18-piece NOLA Players, a supergroup ensemble convened from the city's deep well of musicians. These instrumentalists live and breathe music on a daily basis in the Crescent City, having interacted with each other for years from philharmonic dates to parade lines, from jazz combos to R&B bands. They have played in orchestra pits and dive bars, for funeral parades, for dance parties and arena shows. Their talents have taken them far and wide, too, as they have performed with the biggest stars on the most illustrious stages. But for all the ravishing sophistication of the group's sound, there remains local spice that you can hear in the funky feel of "I Saw Three Ships." One can also hear echoes of old New Orleans in "I Heard the Bells," which sparkles like tinsel thanks to the piano intro by Mike Esneault. As the project's arranger and music director, Esneault – an Emmy Award-winning composer-arranger who has worked with stars from Allen Toussaint and Dr. John to Terence Blanchard and Elvis Costello – brought the long-held vision of AimHigher executive producers Kevin and Monica Fitzgibbons to resonant life. The executive producers co-own De Montfort Music and AimHigher Recordings and have developed several Billboard chart-topping albums, accounting for three of Billboard's Top 6 Traditional Classical Album Imprints of 2014 and 2015, respectively.
Christmastime in New Orleans includes such merry classics as "Silver Bells," "Deck the Halls" and "Jingle Bells," the latter given a slinky, finger-snapping treatment like no other. And the hip "Christmas in New Orleans" – recorded so notably by Louis Armstrong with the Benny Carter Orchestra in 1955 – sounds fresher and more inviting than ever, the musical equivalent of mistletoe. The record is sure to become a holiday evergreen for many, reflecting the multilingual, multicultural ethos at the heart of New Orleans.
The recording sessions for Christmastime in New Orleans – helmed by multiple Grammy Award-winning producer Christopher Alder – were held onstage in studio conditions at the historic Saenger Theatre on Canal Street in downtown New Orleans. Set up in an intimate circle, the musicians played right to each other as the songs were blessed by the hall's warm, open acoustics.
The NOLA Players' line-up also includes vibraphonist/percussionist Jason Marsalis, a member of the first family of New Orleans jazz, brother to jazz superstars Wynton and Branford and son of the beloved pedagogue Ellis, who taught Esneault and so many of the other players in the band.
To Terrance Taplin, the lead trombonist of The NOLA Players, the special secret to the sound of music on this album is daily life. "Yeah, life is the secret, just living here in New Orleans: going out to hear music on Frenchmen Street, taking your place in a second line, eating some good gumbo, playing in a dive to a handful of people but having a time. Just the spirit and joy of it – and that came out with us playing in the round at the sessions for the album. I don't think I've ever felt anything quite like it when recording."
Along with the aforementioned musicians, The NOLA Players include Geoff Clapp on drums, bassist Roland Guerin, vibraphonist Jim Atwood who also serves as the group's project manager; trumpeters Bobby Campo, Ashlin Parker and Stephen Orejudos; trombonist Matt Wright, bass trombonist B.J. McGibney, organist Charlie Dennard, guitarist Mike Vila, and reed players Rex Gregory, Ray Moore, Tony Dagradi, John Reeks and Jason Mingledorff.
These native artists of diverse backgrounds, styles and ethnicities came together to create something truly warm and enduring for all of us to enjoy at that special time of year.
Pre-order the album:
iTunes: http://smarturl.it/NOLAJAZZit
Amazon: http://smarturl.it/NOLAJAZZ
For airings of Public Television Broadcast Special: PBS.org
http://www.AimHigherRecordings.com
http://www.VerveMusicGroup.com
Contact: Monica Fitzgibbons | AimHigher Recordings
monica(at)aimhigherrecordings.com